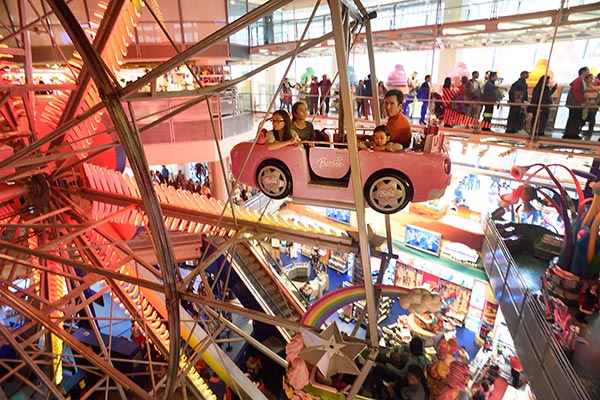 Customers ride the Ferris wheel at the Toys R Us Times Square flagship store in New York.[Photo/Agencies]
Toys R Us Inc, the leading toy and baby-products retailer, plans to double its number of stores in China to 200 within three years, in anticipation of a growth in business from the relaxation in the country's one-child policy.
The company has opened 27 stores in China within the past year, after opening here in 2006. It now operates in 44 cities, with most new openings in smaller cities.
"China has been one of the most important markets for our global expansion plans, and growth in the region is expected to continue with the planned opening of more than 30 new stores in 2016," said Monika Merz, its president, Asia Pacific.
Talking at the opening of the company's 100th store in China, at the APM Shopping Mall in Beijing, Merz said the new direction would not necessarily focus on the number of new stores but on their quality, with an emphasis on educational toys.
Andre Javes, its managing director in China and Southeast Asia, said interest in educational and learning toys is increasing at a faster pace in China than in other parts of the world.
"Chinese parents realize that a toy is not just a reward. It has greater value including its benefits to their children's development of social skills."
Despite the detrimental impact of e-commerce on bricks-and-mortar stores, Javes considers a retail brand's strengths lies in "a memorable shopping experience" being provided, which includes the combination of a wide assortment of products, exclusive items, fun store layouts, interactive in-store experiences, product displays and demonstrations.
Also at the opening event, Dave Brandon, its chairman and CEO, said he considers Toys R Us' international expansion, particularly throughout China and Southeast Asia, as "an important part of our long-term growth strategy".
Toys R Us formed a joint venture in 2011 with Fung Retailing Ltd, its long-term license partner in China and Southeast Asia, with the US toy giant holding the majority 70 percent stake.
The following year it launched a store on the online platform Tmall.com and its own e-commerce website.
China's traditional toys and games market more than doubled in value from 30.6 billion yuan ($4.65 billion) in 2008 to 67.5 billion yuan last year, and is projected to hit 86.4 billion yuan by 2017, according to Euromonitor International.
Clover Wei, a senior associate at Euromonitor, said that traditional toys and games' sales growth contracted in 2014 from 2013 from 9.7 to 9 percent, which she blamed on the economic slowdown and the growing popularity of video games.
Products that encouraged children to participate in outdoor activities, however, sold well in 2014, especially radio or remote-control toys and ride-on vehicles.
"This is because parents are increasingly aware of the academic workload their children bear, and believe products that allow children to play outdoors can effectively relieve stress," said Wei.