Six domestic express delivery companies are being investigated for alleged collusion after they raised their rates simultaneously in Chongqing.
The Chongqing price bureau said in a statement that the six companies held several meetings earlier this year to discuss an increase and decided to raise their rates simultaneously on Aug 1.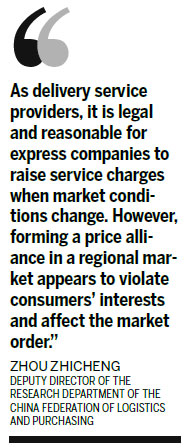 Delivery companies involved in this case include the Chongqing branches of YTO Express Co, ZTO Express Co, Yunda Express Co and TTKD Express Co. Because of the size of these companies, their action amounts to a pact to control market rates and violates China's price law, according to the statement.
The bureau has ordered the six companies to stop charging the higher rates or face fines and other administrative action.
"As delivery service providers, it is legal and reasonable for express companies to raise service charges when market conditions change," said Zhou Zhicheng, deputy director of the research department of the China Federation of Logistics and Purchasing in Beijing.
"However, forming a price alliance in a regional market appears to violate consumers' interests and affect the market order," Zhou said.
YTO Express said that the increase was imposed independently by its franchisee in Chongqing. The corporate headquarters in Shanghai was not aware of the move until the Chongqing authorities acted, the National Business Daily reported on Thursday.
Zhang Qizuo, a professor at Chengdu University specializing in the service sector, said it is hard for express companies to get orders in China's southwestern logistics market, where consumers usually call the cheapest company to deliver their packages or documents.
"It isn't easy to raise rates under any circumstances nowadays," said Zhang.
Hou Hanping, a professor of logistics management at Beijing Jiaotong University, said: "Delivery firms must realize that the future of this industry will be decided by specialized services. Chinese companies are too inclined to focus on densely populated urban areas."
According to Hou, the markets in Sichuan and Chongqing, at least in urban areas, will ultimately be dominated by a few capable companies.
In the long run, the survivors will rely more on capital management, communication technologies and better vehicles, instead of just putting more delivery staff onto motorcycles.