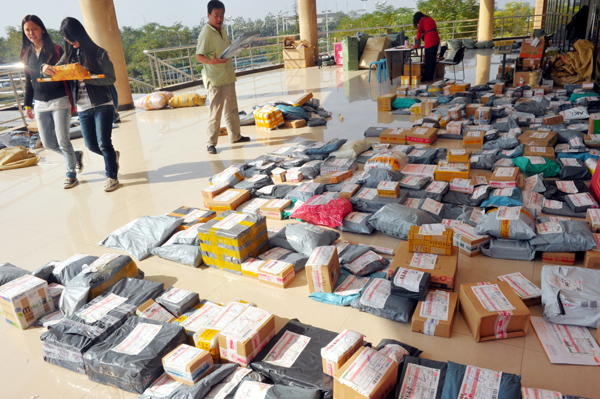 While express delivery is still popular in Chinese cities, a new shopping trend that combines online and offline services offers many perks for consumers. Many companies in China have launched Click and Collect services. Yuan Jingzhi / For China Daily
Traditional, online retailers come together in China to grow customers, profit
The growing popularity of online shopping is prompting more online and offline retailers in China, bitter rivals in the past, to bury the hatchet and collectively tackle the challenges arising from changing customer demands.
With more shopping shifting from bricks to clicks, traditional retailers are finding the going tough with margins shrinking rapidly, while online retailers are grappling with delivery issues arising from rapid urbanization and rising labor costs.
The real beneficiary of the alliance between the two rivals has been the Click and Collect scheme, which is becoming increasingly popular with both retailers and consumers in China.
Unlike the traditional "pick-up-in-store" scheme or "delivery-to-your door" style, Click and Collect allows customers to check online if a product is available and then reserve it to pick up in stores at a later time.
For many retailers Clickand Collect is no longer a question of "should I do it" , but more of "how can I make use of this increasingly popular shopping style to win a greater share of the wallet?" said Janet Low, who leads client services teams across the Asia-Pacific region for US consultancy Epsilon International.
According to Low, the new shopping trend that combines online and offline services offers many perks for consumers. "People don't have to wait for deliveries and they can pick up their purchases whenever they are available," she said.
"Retailers can also get quite a few benefits. Brick-and-mortar stores can cut down shipping costs if customers pick up the purchases themselves. Moreover, it is good to have customers visiting physical stores more often because they may buy more than what they have already ordered online," Low said.