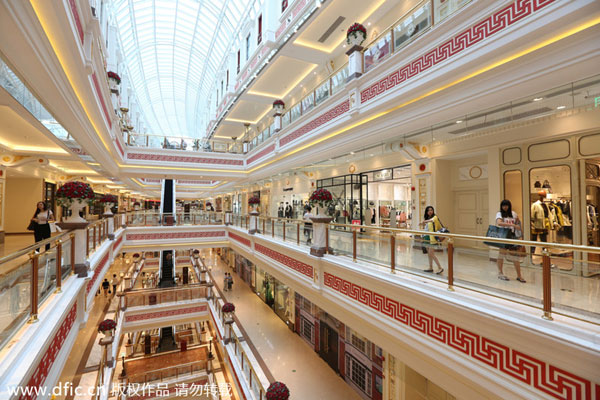 Customers shop at the Global Harbour shopping mall in Shanghai, Sept 10, 2013. [Photo/IC]
Smaller cities will spearhead the next phase of retail development in China and the sector will continue to provide huge growth opportunities for companies, global management consulting firm A. T. Kearney said in a report released on Monday.
"Urbanization, increasing disposable incomes, and the family-planning relaxation will fuel future retail growth in China," said the Global Retail Development Index, an annual study that ranks the top 30 developing countries in the world in terms of retail expansion potential.
Although China has more shopping malls, convenience stores, and online shoppers, hypermarkets and supermarkets, particularly foreign ones, than anyone else, the sector needs more steps to counter flattening revenue, the study said.
According to the report, China ranks second in the world, after Chile, in terms of retail market potential. The ranking, based on factors like market attractiveness, country risk, market saturation, and time pressure, shows that China is still a huge market that retailers cannot ignore, despite the slower growth. The second rank is also China's best rank after 2010, when it occupied the top slot.
Retail sales in the world's most populous country increased 13 percent in 2013 (to $2.6 trillion) on the back of rising consumer confidence. "A major retail driver in China is online sales, which stood at almost $300 billion last year", said A. T. Kearney partner Sherri He.
That represents a 42 percent year-on-year growth and accounts for 8 percent of the total retail sales in China, He said.
The e-commerce market will see further growth in China this year as key players step up market consolidation efforts. Innovative integration of online and offline business and mobility expansion will also help companies. Profits for third-party logistics companies may, however, fall, due to higher land and labor costs, the report said.
"Online players are still struggling to make profits and retailers are still trying hard to find a winning formula for online and offline integration," He said.
On the other hand, hypermarkets and supermarkets-particularly multinationals-are facing flattening revenue growth. Costs such as wages have grown by more than 15 percent every year and rents in some locations have grown by 10 percent every year, the report said.