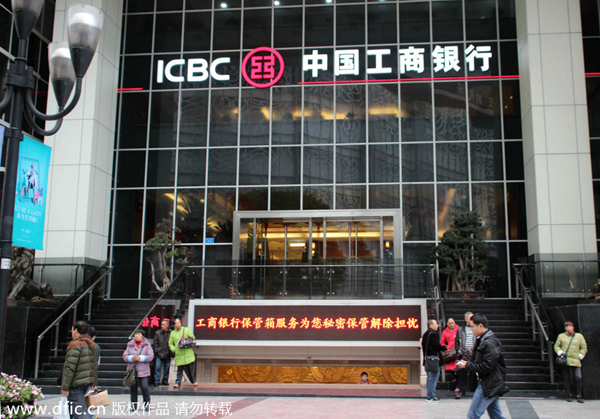 Pedestrians walk past a branch of ICBC (Industrial and Commercial Bank of China) in Chongqing, Southwest China's Sichuan province, Dec 14, 2013. [Photo/IC]
SHANGHAI - Chinese banks should develop retail banking to make it a bigger source of profit, according to a report issued by consulting firm McKinsey & Company on Thursday.
In China, corporate banking has long been prioritized over private customers, with the banks favoring large clients.
However, they are increasingly under the pressure of lower profit margins, caused by authorities' push for interest rate liberalization and a slowing economy.
Against this backdrop, banks should work to gain more value from retail clients, whose need for assets management has long been overlooked though it has recently been tapped by Internet firms promising healthy returns on deposits.
McKinsey said wealth management, consumer credit and services for small and medium firms are growing pillars for Chinese banks' retail business, which is expected to account for 70 percent of retail banking revenue by 2020.
Meanwhile, retail banking will contribute more to profits as traditional business brings in less money amid a narrowing interest spread.
Thirty-seven percent of Chinese banks' profit will come from retail banking by 2020, up from 23 percent in 2013, forecast McKinsey.
The consulting firm also advised Chinese banks to make better use of the Internet to engage with the new generation of retail clients. The consulting firm estimates that China will have 900 million users of digital banking by 2020, compared with 380 million in 2012.
"Digital financial service is an important opportunity for both traditional and non-traditional banks," said Fang Xiyuan, a retail banking analyst with McKinsey, warning that it will also "bring disruptive change to customer experience."
That change is already taking place in China. Chinese Internet giants such as Alibaba and Tencent have increasingly waded into banking territory, offering money market funds as an alternative to low-yielding bank deposits. Purchasing such products does not require waiting in line at a bank branch. Several clicks on a computer or swipes on a smartphone will do the trick.
But Fang added that such products do not fundamentally alter banking services for clients, being more a result of distortion created by artificially controlled interest rates.
"Digital banking service is still nascent in China, and the country's large number of retail clients is still looking for trustworthy providers of multiple services such as investment advice, mobile banking and service platforms for both onshore and offshore products," Fang said.