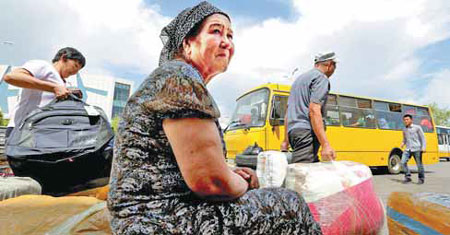 Merchants from Kazakhstan deal with orders at a trade center in Horgos, Xinjiang Uygur autonomous region, on Wednesday. Through the port, trade between China, Central Asia and Europe is thriving. Jiang Dong / China Daily
Cross-border trade volume at Horgos Port, a border station connecting China and Kazakhstan, is expected to grow by 14 percent by the end of this year as Central Asian and
Europe
an countries vie for larger foothol
ds
in the Chinese market.
Horgos is a land entry port, also known as a border station, in the Ili Kazakh autonomous prefecture of the Xinjiang Uygur autonomous region. Its history can be traced back to China's Sui Dynasty (AD 581-618), when the port served as part of the Silk Road trade routes.
"The new economic opportunities were created by the cooperation between China and Kazakhstan to build the Horgos International Border Cooperation Center, the first cross-border international cooperation center in Eurasia," said Liu Yanong, deputy director of Horgos Port's administrative committee.
The center - on which construction began in 2011 and is now nearly complete - is built across the border between the two nations and is located near the town of Horgos in Xinjiang. Exactly 3.43 square kilometers of the center is located in Xinjiang, and the rest, 1.85 square km, lies in Kazakhstan. It serves as a free trade zone, an industrial innovation park and a cross-border logistics hub.
Horgos is the largest land port in Northwest China and is poised to become one of the most important ports in the country. It is located near a natural gas pipeline that stretches between China and Kazakhstan. Trade volume at Horgos Port reached 22 million metric tons in 2013.
Trade demand between China and Central Asia, Liu said, may push the trade volume at Horgos Port to 25 million tons this year, mostly because of surging imports of Central Asian farm products and natural gas over the past two years.