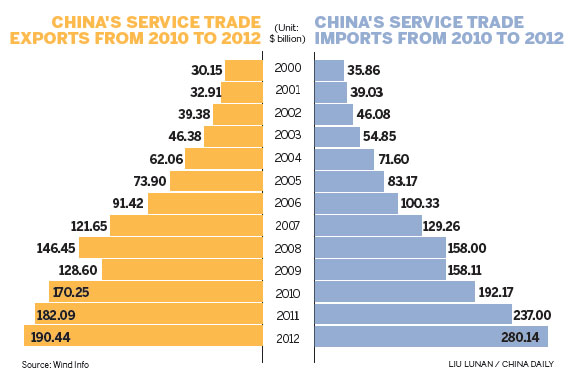 China will further open up its services sector to foreign capital this year, while mulling rules and regulations to create a more level playing field, as the value-added industry becomes a powerful engine fueling the world's second-largest economy.
"Gearing up for the development of the services sector is a must for China to be able to ensure a stable economy and an expanding job market amid economic restructuring," said the country's Vice-Premier Wang Yang in a written address to the summit of the Third China (Beijing) International Fair for Trade in Services, or CIFTIS, on Wednesday.
Wang said China will slowly and steadily open up more fields in its services sector - initially in Shanghai's free trade zone, then expanding to the rest of the country - and take the initiative to be further integrate into global value chains.
The government eased restrictions on investment in such industries as shipping, communications, banking, legal and healthcare in the FTZ last September when the pilot zone first opened its office.
The services sector has been on the fast track of development since the beginning of the 12th Five-Year Plan (2011-15). Its share of the country's GDP growth reached 46.1 percent last year, outstripping that of manufacturing to become the largest sector for the first time.
Meanwhile, trade in services was valued at about $540 billion, up 14.7 percent year on year, accounting for 11.5 percent of total foreign trade in 2013. The country's share of global services trade increased to 6 percent during the same period.
"Despite that, the services sector remains a weak link of the economic and social progress in China," Wang said. "We have to step up to transform the sector, raise its share in the national economy and move up the value chain."
"With the opening-up of the services sector, more and more Chinese enterprises will join the global value chain and play a bigger role in the world economy .... and the world cannot afford to neglect that," said Zhang Baowen, vice-chairman of the Standing Committee of the National People's Congress.