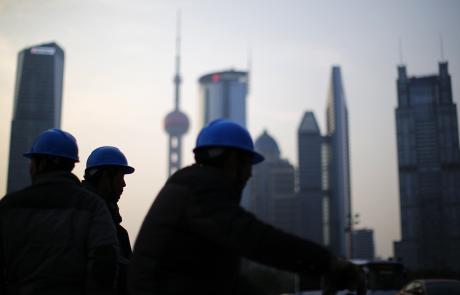 Construction workers stand on a street corner at the financial district of Pudong in Shanghai March 11, 2014.  [Photo/Agencies] 
Growth in China's services sector accelerated slightly in April as new orders held steady, an official survey showed, an encouraging sign of strength in an economy that otherwise faces a cloudy outlook.
The purchasing manufacturing index (PMI) for the services industry edged up to 54.8 last month, the National Bureau of Statistics said on Saturday, up marginally from 54.5 in March.
A reading above 50 in PMI surveys indicates growth on a monthly basis, while a number below that threshold points to a contraction in activity.
The mild improvement in the services sector, which mirrors a marginal gain in the official PMI survey of Chinese factories in April, should be welcomed by investors fretting about the health of the world's second-largest economy.
But the pick-ups in the official PMI surveys for factories and services firms would not be enough to dispel concerns that China's slowing growth engine might cool at a sharper pace faster in coming months.
For one thing, the manufacturing PMI, released on Thursday, showed a sizable and worrying drop in export orders in April, suggesting that foreign demand for Chinese goods remains tepid.
Saturday's survey showed services firms in China fared better than factories in April, but not by much.
Although new orders rose on a monthly basis, the pace of growth did not change from last month, leaving the sub-index flat at 50.8. Business confidence in the services industry also stayed unchanged at 61.5.