Trend is expected to continue, with total exceeding $1 trillion in 2020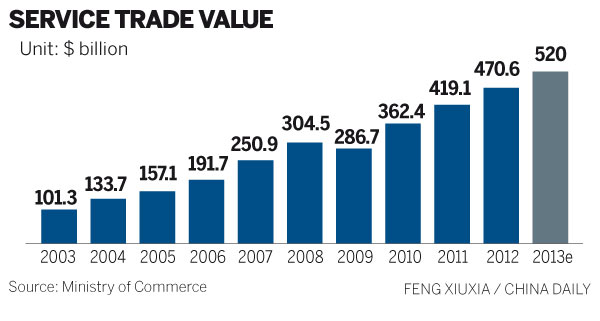 The nation's services trade grew faster than its goods trade in 2013, a trend that's set to continue, officials said on Thursday.
"China's trade in services maintained robust growth in 2013 and is estimated to have exceeded $520 billion, up more than 11 percent year-on-year and keeping the country the world's third-largest trader in services," Yao Jian, spokesman for the Ministry of Commerce, told reporters in Beijing.
Trade in services refers to the sale and delivery of intangible products, or services, including tourism, financial services and telecommunications services.
Final 2013 figures aren't yet in, but in the first 11 months, services trade expanded 12.4 percent to $484.7 billion, according to the ministry.
In 2012, China became the world's third-largest trader in services with an overall value of $470.6 billion, accounting for 5.6 percent of the global total.
In 2001, China's accession to the World Trade Organization opened up its domestic market and triggered the fast growth of its trade in services. Such trade stood at just $71.9 billion in that year.
Growth of the nation's merchandise trade has slowed in recent years, even as the country moves into position as the world's largest goods trader.
Merchandise value is expected to reach $4.14 trillion in 2013, up about 7 percent from the previous year and accounting for about 11 percent of the world's total, Commerce Minister Gao Hucheng said at the end of December 2013.
Merchandise trade figures for December, and 2013 as a whole, are due for release on Friday. There's no specific date for release of the final services trade figures.
"China's trade in services has become a new highlight of the country's foreign trade and will maintain fast growth in the near future. The pace will continue to exceed that of goods trade growth," Yao said.
He added that the value of China's trade in services is expected to exceed $600 billion in 2015 and $1 trillion in 2020.
"China's booming trade in services has mainly been driven by domestic demand, with import growth overwhelming export growth. The world economy will not reverse its slow growth trend in the near future, despite the US economic recovery.
"This will slow down China's goods trade growth and dent related trade in services," Yao said.
"China grasped opportunities for services outsourcing from developed economies in the past decade, which gave a strong boost to the country's trade in services.
"Prospects are bright for fast growth, because the country's trade in services made up a small share of its overall foreign trade compared with the world's average.
"The increase in China's household income will unleash opportunities in the country's huge services market," said Long Guoqiang, a researcher at the Development Research Center of the State Council.
China's exports of services account for about 9 percent of its total exports, much lower than the world average of 20 percent, according to the ministry.
"The competitiveness level of China's services exports is very low. A major challenge to the country's trade in services comes from excessive restraints and administrative procedures at home," Long said.
Tourism and transport services, which are traditional service sectors (as opposed to high value-added sectors such as insurance and financial services), accounted for more than 60 percent of the nation's services trade value in the January-November period.
Those traditional services have also been the largest contributor to the deficit in services trade, according to the ministry.
"We're drafting regulations on the management of services exports and imports, which will standardize the promotion, statistics and market access of services trade," said Zhou Liujun, director-general of the ministry's department of trade in services and commercial services.
Qiu Guangling, director-general of the ministry's department of foreign investment administration, said that the ministry is "making a timetable" to further open the service sector.
Foreign direct investment in the services sector has exceeded that in manufacturing since 2011 and that's expected to continue, Yao said.
lijiabao@chinadaily.com.cn