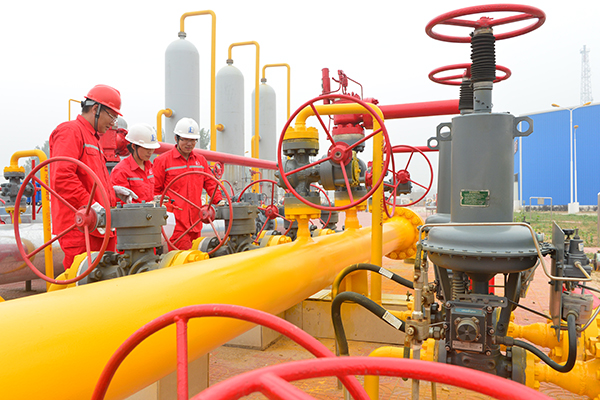 Technicians check pipeline facilities in Puyang, Henan province. [Photo/China Daily]
China National Petroleum Corp's impending plan to divest a portion of its stake in natural gas pipelines will spur competition in the oil and gas industry, experts said on Friday.
On Thursday, CNPC, better known as PetroChina, was reported to be in discussions to sell a stake worth $47 billion in its domestic gas pipelines to third parties, according to Reuters.
"CNPC's plan to delink its natural gas pipeline network is in line with the country's gas and oil reforms," said Lin Boqiang, director of the energy research center at Xiamen University.
"The move will help diversify the number of companies in the natural gas industry."
CNPC is planning to sell some assets before the end of the year and this could include stakes in pipelines and refineries as the oil major looks to bolster its balance sheets, blotted heavily by the recent oil price drops, the report said.
CNPC officials were not immediately available for comments.
According to Reuters, part of the assets that CNPC plans to sell is high-quality natural gas pipelines in China, including three main pipelines connecting the western hinterland and the eastern regions and one in the southern coastal region, altogether 20,500 kilometers. These sections have an annual transportation capacity of 80 billion cubic meters, accounting for 45 percent of China's natural gas consumption.
As the biggest oil and gas supplier in China, CNPC controls about 80 percent of the country's oil and gas pipelines. CNPC had a total oil and gas pipeline network stretching to 76,795 km, of which 48,602 km comprised gas pipelines, according to its 2014 financial report.
"Oil and gas giants have monopolized the entire production and supply chain of the natural gas sector. The end consumers can hardly negotiate with them for prices," said Liu Yijun, a professor who specializes in the natural gas sector at the China University of Petroleum.
"Separating the pipeline network is an inevitable move. Plus, the fluctuations in the value of these assets are not as high as oil. The returns generated by these pipelines are relatively stable."
Delinking gas pipelines was put on top of the national agenda in October 2013 when the State Council Development Research Center published a plan called "383" that aims to separate the gas pipeline networks from the oil and gas suppliers and form a number of independent pipeline operators, subject to the government's supervision.
Wang Dongjin, deputy general manager of CNPC, said during the company's half-year financial performance in August that shedding pipelines is in line with the national oil and gas reform.
CNPC will gradually divest its pipelines, which will be operated independently in line with market demands, he said.