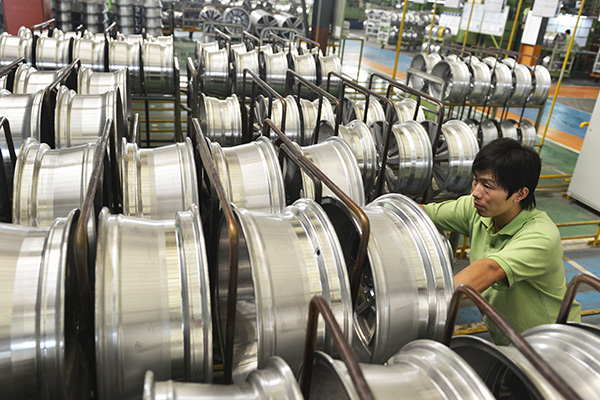 High-end aluminum alloy wheels produced at a mill in Zouping, Shandong province. Chinese smelters pledged on Friday to halt new mills and keep unused operations closed. [Photo/China Daily]
Aluminum smelters in China pledged on Friday to halt new mills and keep idled capacity closed, in a statement that stopped short of the specific targets set by top producer China Hongqiao Group Co and other metals producers to cut capacity or output.
The smelters, representing three-quarters of the country's capacity, will increase "production flexibility", the China Nonferrous Metals Industry Association said in a statement posted on its website. The move follows a gathering on Thursday to discuss measures to counter the lowest aluminum price in six years. The statement did not name the producers.
"If that is all we have got, it is as vague as you could possibly be, which puts a big question mark over it," Daniel Hynes, senior commodities strategist at Australia & New Zealand Banking Group Ltd, said by phone from Sydney. "Even with figures in them, the announcements so far have been a bit dubious, but when there is nothing to hang your hat on it is even more so."
Hongqiao, which is one of the 14 smelters meeting in the southwestern city of Kunming, capital city of Yunnan province, released its own statement on Thursday pledging capacity cuts of 250,000 metric tons beginning immediately. Copper, nickel and zinc smelters have recently all met and announced production cuts, as China's metals industry seeks to navigate the slowest economic growth in a generation.
The smelters' statement on Friday said that earlier measures had to a certain extent eased oversupply and reduced inventories. The total idled capacity of primary aluminum production in China has reached 4.41 million tons and is expected to increase to about 4.91 million tons by the end of the year, according to the statement.
The statement did not say whether it had included Hongqiao's cuts, nor where the extra 500,000 tons would come from. Idled capacity of alumina would be more than 7 million tons, it said, without giving a previous figure.
"Other important matters" on which "a high level of consensus" was reached were also discussed at the meeting, the statement said, without elaborating.
Aluminum for delivery in three months on the London Metal Exchange rose 0.5 percent to $1,499 a ton in afternoon trade in Shanghai, reversing an earlier loss. The metal has fallen 23 percent in the past year as a supply glut in China, which accounts for 40 percent of global output, overwhelms demand.