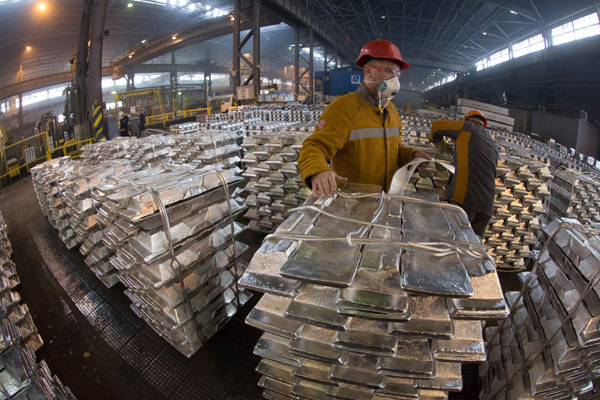 Workers pack stacks of aluminum ingots in preparation for shipping in a foundry at the Sayanogorsk aluminum smelter operated by United Co RUSAL in Sayanogorsk, Russia. RUSAL, the world's largest aluminum producer, has just reported its first full-year profit since 2011 as prices for the light metal increased and the rouble weakened. [Photo/Agencies]
United Co RUSAL Plc, the world's biggest aluminum producer, is planning to sign cooperation deals with Chinese companies to launch joint ventures in markets outside of Russia as the country heads for a recession caused by sharply lower oil prices.
Oleg Mukhamedshin, the company's deputy chief executive officer, said it plans to create JVs with Chinese partners within two to three years, focusing on producing value-added products in the aluminum downstream sector.
The Moscow-headquartered, but Hong Kong-listed industrial giant also plans to develop a bauxite plant with Chinese partners in a market such as Indonesia to ensure upstream supplies of raw material, said Mukhamedshin.
He declined to release any details of potential partners, saying the potential projects are still at the discussion stage.
"Given the overcapacity of China's aluminum industry, the cooperation will benefit both parties," he told China Daily.
As a senior official in charge of RUSAL's business development and financial markets strategy, Mukhamedshin said that it is a good time for Chinese companies to seek JVs with Russian companies, as many hunt for investments away from their struggling home market.
Global aluminum output was 53.9 million metric tons in 2014. China contributed 28.1 million tons of that, as annual output continued to grow at around 10 percent.
Mukhamedshin said the China market made up less than 1 percent of RUSAL's global revenue in 2014.
Mi Pengqi, a senior analyst of JYD Online Corp, a Beijing-based bulk commodity consultancy, said China's industrial overcapacity problems have seriously hit various commodity sectors, including aluminum, "and this has forced many producers to shift from mass production to high-end products manufacturing".
He said signing cooperation deals may help Chinese firms gain technologies from Russian partners, but in RUSAL's case it would be the beneficiary.
"Considering Russia's current economic situation, overseas markets will play an important role for the country's commodities industry. RUSAL needs to find a breakthrough to expand its presence in the Chinese market," he said.
"After many cooperation agreements created between China and Russia in the energy and resources sectors, the countries are now in a very good relationship, making it good timing for RUSAL to boost its ties with Chinese counterparts," Mi said.
Although the Russian company is not currently delivering any product to China, Mukhamedshin said sectors such as cabling, automotive and packaging offer huge potential for increased aluminum demand in China.
"The cabling industry in China, for instance, consumes more than 6 million tons of copper each year. If you substitute even half of that with aluminum, it represents a big market," he said, adding that such a move could cut producers' material costs by more than 60 percent.
"The auto industry in China is also growing rapidly with light-weight car producers using many aluminum components," he said.
"Packaging and window frames for new buildings also offer possibilities for us in China."