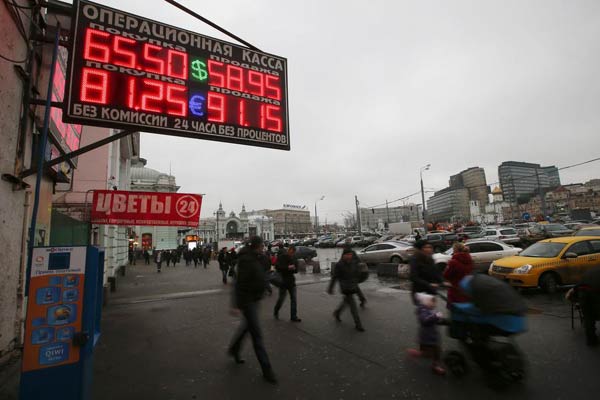 People walk past boards showing currency exchange rates in Moscow, Dec 17, 2014. The dramatic fall in Russia's rouble slowed on Dec 17, with the government selling foreign currency to prop it up after a 50 percent fall against the dollar this year. [Photo/Agencies]
The nation should maintain close cooperation with Russia in the energy sector and accelerate a new natural gas pipeline project, said Vice-Premier Zhang Gaoli on Friday in Beijing during his meeting with Alexei Miller, president of Russia's state-owned natural gas giant Gazprom OAO.
Zhang said the two neighbors achieved great success in the energy industry last year and will focus on making their cooperation more effective for mutual benefit.
Based on bilateral agreements, China and Russia will accelerate the construction of a western natural gas pipeline linking Russia's Siberia and northwestern China.
"The two nations should also actively explore cooperation opportunities in upstream resources development, energy project construction and equipment manufacturing," Zhang said.
Miller said Russia would like to explore further energy cooperation.
Han Xiaoping, chief information officer of China Energy Net Consulting Co Ltd, said facing political pressure from the West and domestic financial difficulties, Russia needs to swallow its pride and cooperate with China intensively.
"The first item on Russia's agenda should be opening up its energy market for Chinese companies, which will be beneficial for both countries," Han said.
As a strong manufacturing country after years of development, China can contribute more to Russia's energy sector. For instance, PetroChina Co Ltd, the nation's biggest oil and gas producer, can bring advanced exploration technology to Russia.
"Chinese companies' oil and gas exploration equipment can also be brought to Russia for its energy industry growth," he said.
China and Russia signed a $400 billion natural gas supply contract in May, under which Gazprom will supply China with 38 billion cubic meters of gas annually for 30 years, starting in 2018, through the planned eastern pipeline.
The pipeline will connect Russia to China's northeastern Heilongjiang province and from there connect with the industrialized cities along China's eastern coast.