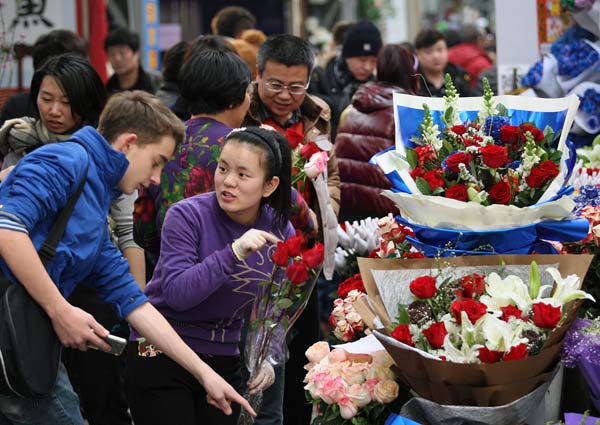 A foreigner asks about the price of roses at Laitai Flower Market in Beijing on Feb 13, 2014 ahead of Valentine's Day on Feb 14. [Photo by Wang Zhuangfei/ China Daily]
Valentine's Day brings bonanza for boxed bouquets of blossoms
Florists recorded a surge in sales of roses in the week leading up to Valentine's Day, with more people ordering luxurious bouquets of roses packed in boxes. Flower retailers expect a further jump in business with the arrival of the festival.
The surge in orders for Valentine's Day roses, made around two weeks prior to the festival, pushed up the price of the flower from 3 yuan (48 US cents) to 6 yuan per bloom.
"On Valentine's Day, the price of a red rose is expected to jump to at least 10 yuan, while blue roses could retail for as much as 100 yuan each," said Lin Lifeng, manager of a florist in Beijing's Chaoyang district.
One style - a bouquet of roses in a rectangular box and tied with ribbons - is becoming popular this year, with around half of the orders received at Lin's store being for this.
As Spring Festival will fall on Feb 19 this year, five days after Valentine's Day, express delivery companies will soon start their Lunar New Year holidays. Flower deliverers, mostly being migrant workers, will return to their hometowns for Spring Festival, meaning that many florists are facing a delivery crisis.
"We currently receive more than 80 phone and online orders for flowers every day, and customers want them delivered in the three-day period before Valentine's Day. We have hired some college students as part-time workers, and pay them 20 yuan per delivery," Lin said
Meanwhile, with Spring Festival drawing near, orchids, tulips and daisies are among the most popular species as gifts and for decoration.
"These days we have received many orders for Moth Orchids, which is quite unusual at other times of the year," Lin said.
Roseonly, a Beijing-based e-commerce florist selling bouquets of roses imported from Ecuador, saw its daily sales soar 10-fold in the run up to Valentine's Day.
Besides its brick-and-mortar stores, the high-end florist, which can ship to more than 300 Chinese cities, has online outlets on its official website and Tmall, a business-to-customer platform owned by Alibaba Group Holding Ltd. At Roseonly, a bouquet of 12 roses packed in a box retails for 1,314 yuan. The store has seen its daily revenue reach millions of yuan, and expects its sales on Valentine's Day to hit 50 million yuan, according to Perry Pu, Roseonly's founder and chief executive.
"Orders and delivery demand are surging to such an extent that we have become a strategic partner of FedEx," Pu said.
In addition to cut flowers, sales of other rose-related products such as preserved fresh flowers, rose-shaped jewelry and rose essential oil also have surged in the run up to Valentine's Day.
Related story: Chinese consumers in love with Western day of romance, by Wang Zhuoqiong, China Daily
Valentine's Day has become the most significant Western holiday for Chinese people, a research firm said in a survey.
United Kingdom-based Mintel Group Ltd said that 42 percent of respondents to its survey bought food as a gift for Valentine's Day last year.