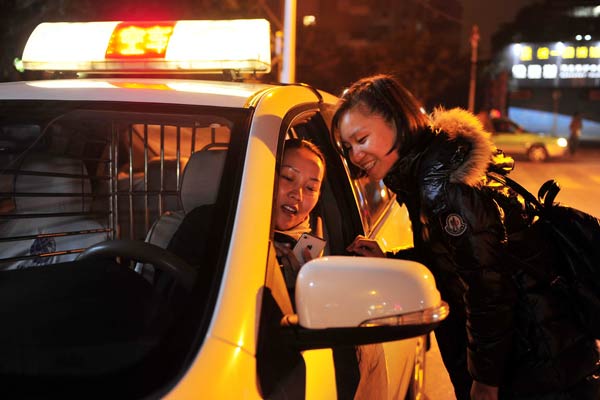 A taxi driver checks her smartphone with a passenger in Fuzhou, East China's Fujian province, Dec 12, 2014. [Photo/CFP]
China's mobile taxi-hailing app operators Didi Dache and Kuaidi Dache, which have been in head-on competition, jointly announced their strategic merger via their Sina Weibo accounts on Saturday, also Valentine's Day, a western holiday celebrated by many Chinese people.
The new company will run on a co-CEO basis and keep the original structure of their respective human resources. Didi and Kuaidi will continue to run their business parallel, retain their brands, and remain independent.
Didi's CEO Lv Chuanwei said the merger will allow the new company to roll out "more perfect" travel service products and speed up market penetration, drawing on the technology and talent advantages of both companies.
More details of the merger will be made public after China's Lunar New Year holiday, which lasts from Feb 18 to Feb 24.
The two companies have been going head to head since last year in separate promotion campaigns to attract users with subsidies for both taxi drivers and passengers.
Didi and Kuaidi have received backing from Chinese Internet giants Tencent and Alibaba, respectively, allowing users to pay trip fares with their mobile payment apps. Alibaba told news portal Sina Tech that it is in support of the merger and believe this move will create a "win-win" situation.
Kuaidi holds a 56.5-percent share of China's taxi-hailing app market, while Didi accounted for 43.3 percent as of December, according to research consultancy Analysys International.
The two companies refuted concerns over a potential monopoly in the Chinese market after the merger, saying taxi-hailing services are only a small piece of a much bigger transportation market in China.
Despite their dominance in taxi-hailing services, Didi and Kuaidi are being challenged in ride-on-demand services by newcomers such as Beijing-based rental firm CAR and US taxi and transport service firm Uber, which received an undisclosed amount of investment from Chinese search engine Baidu last year.
Kuaidi and Didi launched their own ride-on-demand services during the second half of last year. Both taxi drivers and private car owners have signed up, but the services have run afoul of regulators as some cities banned unlicensed drivers from giving rides at the end of last year.
China's Ministry of Transport also banned private cars from taking passengers for profit in January and ordered app developers including Didi and Kuaidi to only dispatch cars owned by taxi or car-rental companies for ride-on-demand services "out of safety concerns."
Both companies have received four rounds of financing. Didi's latest $700 million financing included funds from Singapore's sovereign wealth fund Temasek and Russian investment firm DST, while a $600 million investment in Kuaidi came partly from Japan's SoftBank and Tiger Global.
Xinhua contributed to this story