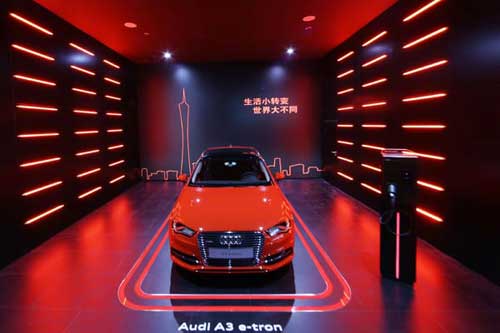 Audi A3 e-tron on display at the Guangzhou auto show in 2014. [Photo/CHINA DAILY]
MUNICH - German automaker Audi AG reported on Friday that around 147,750 vehicles were sold in November, a year-on-year increase of 1.0 percent.
A total of 1,644,900 units were delivered to customers in the first eleven months of the year, an increase of 3.4 percent, according to the Ingolstadt-based company.
"The sustained high demand for Audi models in Europe and our good global order situation continue to provide momentum for the months ahead," said Dietmar Voggenreiter, a member of the board of management for sales and marketing.
According to the company's statistics, demand proved positive in Europe, up 6 percent to around 62,300 units.
On the Chinese market, 49,519 units were delivered to Chinese customers in November, and a total of 510,692 deliveries were made in the first eleven months.