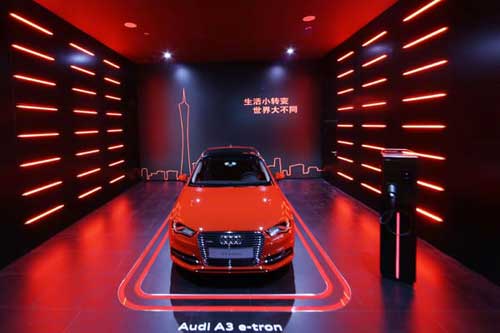 Audi A3 e-tron on display at the Guangzhou auto show in 2014. [Photo/CHINA DAILY]
Q&A with President of Audi China Joachim Wedler, in Guangzhou on Nov 19
The premium auto market may not grow as fast as years ago. What's your plan for the future?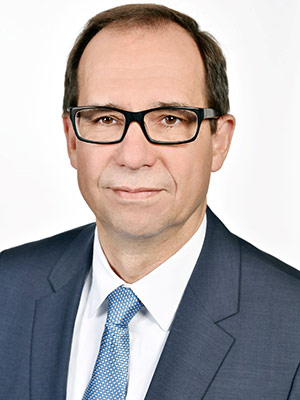 President of Audi China Joachim Wedler
We are facing the "new normal" in China. We have seen a substantial growth rate last year, and everybody sees a growth slowdown now.
We are well prepared to deal with such an economy. Because, if you look to Europe, the United States, these mature markets have the very slow growth rate that we are used to.
Will Audi China adjust the budget or postpone the capacity expansion?
There will be no cancellation of projects, no postponement in standard operating procedure. We are very confident in the Chinese market. We have a clear strategy, and a clear growth plan; we will stick to our plan. There's no single adjustment needed. We are very, very positive about the Chinese market.
Do you foresee any business change in Audi China?
There's an empowerment in the region. Based on Volkswagen's research and development center in Beijing, this adaptation is done here in China, driven by Chinese customers, and executed by Chinese engineers and experts.
This led us to more specific differentiation of our products for Chinese markets. This is what you can touch and feel. A lot of technical adaptation already happened and will happen. This is the strength of our region as it fulfills the specific needs of Chinese customers, and tries to get it better for the future.
Our new products for the Chinese market use smartphone integration next year. We will deliver a smartphone connection solution developed only for the Chinese market, and mostly done by the R&D center in Beijing. And for sure, we'll have a lot more.
What's your new energy vehicle strategy for China next year?
The NEV strategy for Audi is very clear: We now will deliver more PHEVs to the market, and then the battery technique gives the real advantage to the customer, that is the distance customers can drive in a battery electric vehicle.
We have already launched A3 e-tron, now the Q7 e-tron, and the A6 e-tron in a long version. The next part is shown in the concept battery SUV with a driving range more than 500 kilometers.
Audi as a premium brand looks to fulfill the CO2 emission requirement by the Chinese authorities. We will deliver enough NEVs to the Chinese market, locally produced and imported.
From the customers' daily usage point of view, they need charging stations. We need to play our role in investing charging poles for NEVs with societies, communities, independent brands and the government. To break through our strategy, we need a complete, functional charging structure all over China.
Why does Audi develop a version of Q7 for China?
We have developed V6 TDI e-tron version, which uses diesel, and will be launched in the coming one to three months.
When looking into Asia, especially China, diesel does not play a major role. So we developed this car specifically for China, based on a 2-liter TFSI and e-tron, which has a powerful 4-cylinder engine combining a plug-in electric drivetrain.
It gives enormous sportiness on one hand, and on the other hand it lowers fuel consumption in plug-in hybrid mode.
It was developed with an integration concept, which does not accept any compromise. Especially the trunk of the Q7 e-tron, there's no difference from the standard one.
Will Audi list the e-tron models in local governments' NEV catalog for free car plates?
It's our clear target, no doubt. Every e-tron will be listed in the catalog eventually. We will fulfill all the criteria on the NEVs. We are working on that, and we will fulfill that. That's our commitment to the Chinese customers, and to Chinese society.