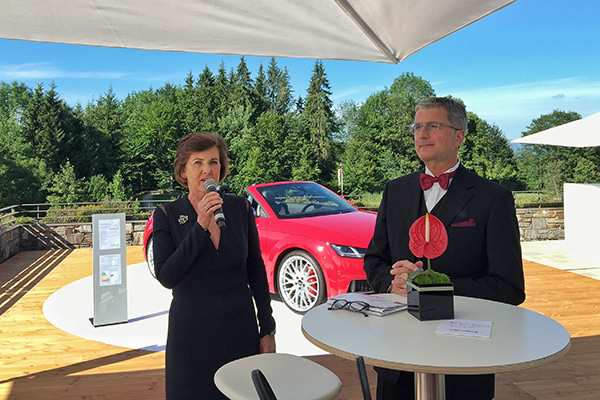 Helga Rabl-Stadler (left), the chairwoman of executive board of Salzburg Festival and Rupert Stadler(right), chairman of Audi AG, gave a speech at a cocktail party before "Audi night" concert in Salzburg on July 31, 2015. [Photo provided to chinadaily.com.cn]
It is a city that absolutely features music. Salzburg, birthplace of Mozart, is also well known as the setting where the famous film The Sound of Music was shot.
Wandering in Salzburg in late July, you can feast your eyes on the renowned baroque architecture or the beauty of Alps and let music flow into your heart.
This year's Salzburg Festival began July 18 and ends today. Since 1920 the famous music festival has attracted music lovers from around the world who come for one of the oldest and most prestigious festivals of its kind.
On July 31, Helga Rabl-Stadler, the chairwoman of the Salzburg Festival's executive board, said the almost 100-year-old festival might not survive today without earnest support from sponsors such as Audi AG.
Rabl-Stadler also stressed that in many respects, Audi is an irreplaceable festival partner. And Audi not only gives financial support, but also provides originality and technology for the festival.
Since 1994, Audi has developed a full partnership with the Salzburg Festival. It provides a motorcade for VIP guests, and also holds a special festival concert, "Audi night".
In 2014, the 20th anniversary of mutual cooperation, both sides signed an agreement to prolong that cooperation until 2018. Rupert Stadler, chairman of Audi AG, then said their cooperation is the longest and most successful among Audi's agreements with other culture and art organizations. Artists at the Salzburg Festival play classical music and innovative works as well. This innovative spirit coincides with Audi's brand slogan of innovation through technology.
At the Salzburg Festival this year, the opera Norma fascinated audiences, along with other classics, such as The Marriage of Figaro, Fidelio and Der Rosenkavalier.
Among other world famous cultural programs, Audi also sponsors the Goteborg Music Festival and the Bavarian State Opera. And it plays an important role in the Three Tenors concert in Beijing and the debut of the hit musical Cats in China.
"Audi" means "listening" in Latin, underscoring the brand's deep connection with music since its establishment.
Music is the art of life, and art makes nature perfect. Audi highly values art for respect and appreciation instead of for business purposes. Meanwhile, art will bring a profound cultural connotation for Audi, developing its own value and exceptional position in the auto industry.