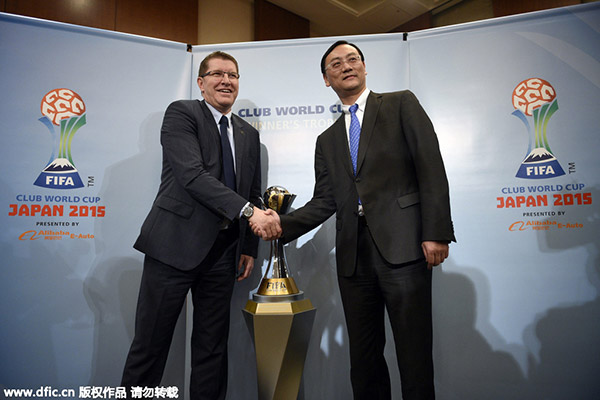 FIFA Marketing Director Thierry Weil (L) and Alibaba Sports Group CEO Zhang Dazhong shake hands after announcing their partnership for the FIFA Club World Cup in Tokyo, Japan, December 9, 2015. [Photo/IC]
TOKYO - FIFA and Alibaba E-Auto, an "Internet car" brand owned by Chinese e-commerce tycoon Alibaba Group, on Wednesday reached an eight-year presenting partnership of FIFA Club World Cup from this year's edition of the football club competition until 2022.
The agreement marked that Alibaba became the first Chinese company to have presenting partnership with the FIFA tournament and both sides vowed to promote the world's most prestigious club football competition to a global audience through the exclusive rights associated with their cooperation.
For his part, FIFA marketing Director Thierry Weil welcomed the beginning of their cooperation and expected to benefit from Alibaba's innovation, adding FIFA is "excited to be working closely with them (Alibaba) to embark on a journey to reach fans across the world."
Alibaba E-Auto will present the Most Valuable Player (MVP) award at each match during the tournament, including the final match on 20 December, according to FIFA.
Zhang Dazhong, CEO of Alibaba sport, said in a press conference here that "sports is at the intersection of Alibaba Group's strategic themes of health and happiness, and we look forward to adding new value for participants and consumers in the sports sector through data-driven Internet technology."
"Partnering with a major sporting event with a global audience such as FIFA Club World Cup is also an important part of Alibaba Group's globalization strategy for connecting China to the world," said Zhang.
This year's edition of the FIFA Club World Cup will be kicked off in Japan's Osaka and Yokohama from Dec 10 to 20.