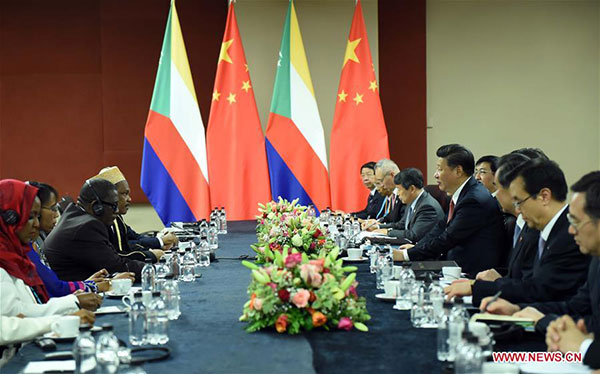 Chinese President Xi Jinping meets with his Comoros counterpart Ikililou Dhoinine in Johannesburg, South Africa, Dec 4, 2015. [Photo/Xinhua]
JOHANNESBURG - Chinese President Xi Jinping called on China and Comoros to enhance economic cooperation while meeting with his Comorian counterpart Ikililou Dhoinine here on Friday.
Xi told Dhoinine on the sidelines of a China-Africa summit that China, a firm supporter of Comoros' drive to develop its economy and improve people's livelihood, encourages its companies and financial institutions to participate in Comoros' development and expand cooperation in areas such as infrastructure, energy and fishery.
Calling on the two sides to strengthen political mutual trust and practical cooperation, Xi said the Chinese side is willing to promote cooperation with Comoros in an all-round manner.
The Chinese leader added that China stands ready to maintain communication and coordination with Comoros in major global and regional issues such as climate change, 2030 Agenda for Sustainable Development and Indian Ocean Rim issues, so as to jointly safeguard the interests of the developing countries.
Dhoinine said Comoros is grateful for China's long-term assistance, especially the program against malaria that has greatly benefited the Comoros people.
He added that Comoros is willing to participate in infrastructure cooperation with China under the framework of the Belt and Road Initiative.
Xi and Dhoinine are attending the second summit of the 15-year-old Forum on China-Africa Cooperation, which groups China, 50 African countries that have established diplomatic ties with China, and the Commission of the African Union.