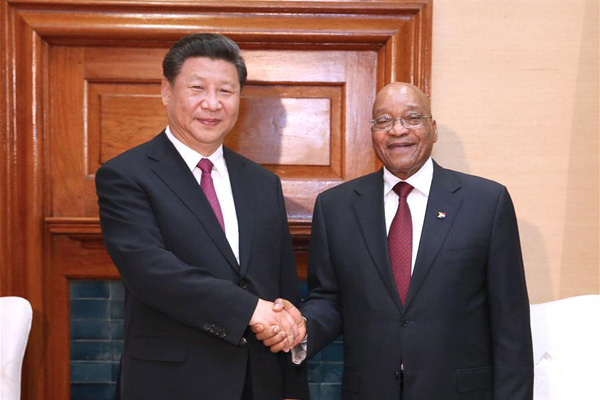 Chinese President Xi Jinping (L) holds talks with his South African counterpart Jacob Zuma in Pretoria, South Africa, Dec 2, 2015. [Photo by Ma Zhancheng/Xinhua]
China and South Africa have signed 26 bilateral deals on Thursday worth 41.9 billion yuan ($6.5 billion) after talks between Chinese President Xi Jinping and his South African counterpart Jacob Zuma, mainly to build infrastructure in the continent's most industrialized nation.
Among them are agreements between the two nuclear operators State Nuclear Power Technology Corp and Necsa as well as a memorandum of understanding between South Africa's Standard Bank and China's top ICBC, the BRICS Post reported on Friday.
Also, China Export Credit Insurance Corp signed a deal with Transnet to provide the South African logistics company $2.5 billion in loans to pay for equipments from Chinese companies.
South Africa's President Jacob Zuma hailed relations between the two nations as their "best ever" after the two leaders held talks focused on boosting investment.
"China and South Africa relations are at a new historical level. We want to build it into a model for relationships between China and other emerging economies," Xi said at a news conference following the talks.
As part of the 26 deals, China will lend South Africa's cash-strapped power utility Eskom $500 million.
South Africa is in the throes of a chronic electricity crisis that is increasing costs for industry and discouraging investment. Part of its response is to build new nuclear plants that experts say may cost as much as $100 billion.
China will also help to build a car manufacturing plant on South Africa's coast which should begin exporting vehicles to other African countries by the end of 2017.
South African Investec, a Johannesburg-based investment bank and asset management firm, agreed to work with China Export-Import Bank to enhance export finance, project finance, and the internationalization of the Chinese yuan.
The two nations also agreed to waive visa requirements for diplomatic and government passport holders.
Agencies contributed to this story.