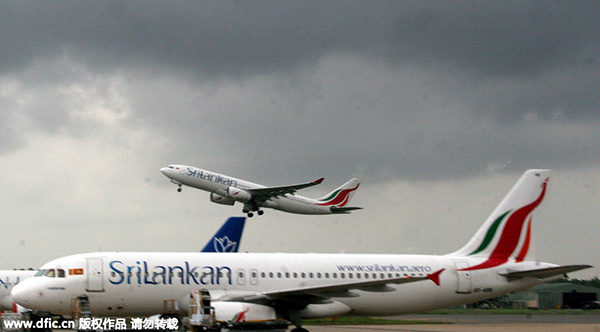 A passenger aircraft of SriLankan Airlines taking off from the Bandaranaike International Airport on the outskirts of Colombo, May 3, 2007. [Photo/IC]
SriLankan Airlines has been awarded the Superior Achievement in Passenger Experience -Asia Pacific, at the APEX Awards 2015 held in Oregon of the United States. The award is considered by many to be the Oscars of the airline world.
The global award, presented to SriLankan Airlines on Oct 8, recognizes a remarkable surge in improvements made to passenger experiences both on-board and on-ground by the airline.
"Today, we witness key touch points along the passenger journey quickly disappearing," the airline's director and chief executive officer Rakhita Jayawardena said in a keynote presentation as the opener to the awards night.
"In some airports, the only thing they do not take from you is your trouser and your shirt," he added.
He noted that a single factor to distinguish SriLankan Airlines from competition would be the strengths of the culture, warmth and hospitable nature of Sri Lankans that would bring value to the airline business and provide the personal touches that are soon disappearing in aviation today.
"I took away from it the viewpoint of how airlines of any size and scope can raise the bar on passenger experiences as easily as the major players can," APEX CEO Joe Leader said.
SriLankan's on-time performance in August was ranked 16th out of 50 international airlines rated by the global flight data service Flightstats. Punctuality for both arrivals and departures improved from 66 percent six months ago to the current percentage in the high 80's, due to the relentless efforts of Jayawardena and his team.
In August 2015, it ranked seventh for on-time arrivals and departures among the one world carriers beating giants in the industry.
Jayawardena likened winning the APEX Award to receiving an Academy Award. "The APEX awards are the Oscars of the industry, this means they are following what we're doing, seeing what we're doing and listening to what people are saying."
"We at SriLankan Airlines are on a mission to get this airline from red to black, that as a personal initiative I aggressively and relentlessly pursued," he said.
"This airline has lost a lot of money in the past and our focus for the next three years is to gradually improve our bottom line so that we will be profitable in year three without state funding," he added.