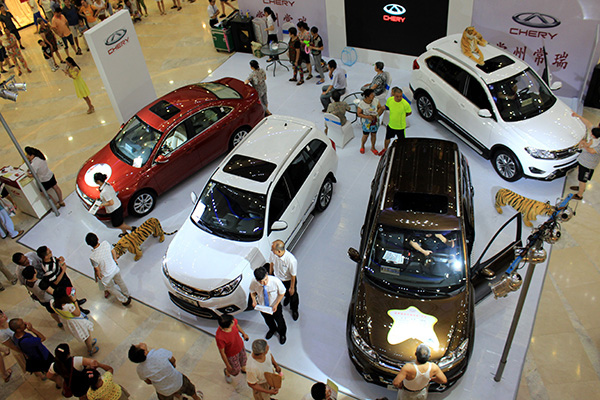 Inside a 4S shop in Changzhou. The Vehicle Inventory Alert Index compiled by the China Automobile Dealers Association stood at 55.7 percent in September, hovering above the alert level of 50 percent. [Photo/China Daily] 
Tax relief on small-engine cars forecast to boost vehicle sales
China's auto dealers saw their inventory levels rise again in September in the world's largest auto market.
The Vehicle Inventory Alert Index compiled by the China Automobile Dealers Association stood at 55.7 percent in September, hovering above the alert level of 50 percent.
The index is based on a survey of more than 1,000 authorized stores in China that sell 55 brands of vehicles, both Chinese and foreign.
The rebound came after a short respite for auto dealers in August, when the index stood at 48.7 percent. Prior to that, the index had been above the alert level for 10 consecutive months.
The rebound is because of two major reasons, said Xiao Zhengsan, secretary-general of the association. Some dealers increased their stock as customer demands usually rise in September and October, while some automakers, to ensure their sales targets, pressured other dealers to purchase more vehicles.
Many customers were also on holiday during the parade held in September to mark the 70th anniversary of the end of World War II, thus weakening customer demand, said Lang Xuehong, deputy secretary-general of the association.
Things are expected to improve in the coming months as the State Council has released tax deduction policies to encourage the purchase of cars with engines of 1.6-liters or below, Lang said.
The State Council decided in late September that taxes on such vehicle purchases will be halved for buyers from Oct 1 and will run till the end of next year.
Lang estimates the policy will generate sales of about 1.2 million vehicles.
She also expects customer demand will rise in October as regional auto shows are organized and discounts offered.
Despite a possible change for the better, industry insiders said that in the long run, dealers should adjust their business model to ensure profits as the rapid sales growth of previous years has passed.