BAIC reveals target to join top 3 automakers in China through new models, R
The local partner of the Daimler Group and Hyundai Motor unveiled an ambitious blueprint on Sept 28, that aims at a top spot in the Chinese market by 2020 through lineup upgrades and research breakthroughs.
BAIC Group's 2020 strategy has set a challenging target for the BAIC Motor brand to consolidate its Senova and Wevon series and become one of the top three Chinese passenger car brands, and list its stock in the country's A-share market.
Xu Heyi, chairman of the BAIC Group, said in his speech: "BAIC's system has accumulated abundant resources in the past five years. We have established a comprehensive industrial chain from research and development, OEM support and manufacturing to distribution."
The group's Hong Kong-listed arm BAIC Motor Corp's interim report shows passenger cars carrying the BAIC badge achieved sales volume of 148,512 units in the first half of this year.
The Chinese-branded cars' sales last year, of 309,600 units, was less than half the No 3 Chinese automaker Great Wall Motor's 610,687 passenger car sales, while SAIC General Motors Wuling's 932,164 cars sold left all its Chinese rivals behind.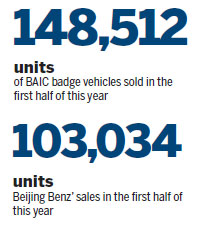 Jia Xinguang, a senior analyst with the China Automobile Dealers Association, is bullish about the plan: "The automaker is capable of accomplishing the goal. It has a series of strategies to support the plan, for example, upgrading its product portfolio and boosting its research and development."
The company will invest more in its three major technology R&D centers, which focus on smart, electrical, low-carbon and lightweight. Its "3F" customer service principle refers to fast understanding of customer needs, fast arrival of parts, and fast assistance.
The Chinese automaker will also follow Hyundai Motor's "3H" standards of "high quality, high efficiency in manufacturing and high competence in procurement", besides benefiting from the strategic partnership with Daimler Group who provides the latest technologies to the BAIC branded high-end products.
The State-owned automaker announced it would introduce at least 20 new models in the next five years to replace its current lineup completely and upgrade to second-generation vehicles, hoping to boost the market share of the brand.
BAIC Motors President Li Feng told the media the company will step up in three stages in the next five years: firstly, it will complete the lineups of the first generation BAIC models by 2016; then launch the second generation from 2017 to 2018; and finally develop one or two modulated platforms.
The group's aggressive strategy was dubbed "Pi plans" for the key numbers in its targets - 3, 1 and 4. Besides BAIC's aim to become one of the top three Chinese brands, Beijing Benz Automotive expects that the localized Mercedes-Benz will lead the nation's luxury market, while "4" refers to maintaining Beijing Hyundai's fourth position among the joint ventures in China through 2020.
BAIC Motors also unveiled its new compact crossover Senovo X55 at a ceremony to mark the fifth anniversary of the company , which was held on Sept 28.
JVs plans
The target of Beijing Benz echoed Daimler Group CEO Dieter Zetsche's lofty ambition in 2012 to lead the Mercedes-Benz luxury brand to No 1 ahead of Audi and BMW by 2020.
The joint venture between BAIC Motor, Daimler AG and Daimler Greater China will contribute to that objective through launching a number of new models and implementing new technologies.Beijing Benz' sales volume surged to 103,034 units in the first half of this year, 59.8 percent more than in the same period a year earlier.
However, the sales of FAW-Volkswagen's Audi Division, the long-time luxury market leader in China, declined by 3.6 percent in the first half. BMW Brilliance, the No 2 player, saw only a minor change.
Xu said the partnership has set a model for cooperation between the Chinese and German companies that not only developed the business but also realized benefits for stakeholders.
Beijing Benz's operating profit leaped by 186 percent to 3.6 billion yuan ($567.2 million) in the first half of 2015 from the corresponding period a year earlier, recording net profit of 2.6 billion yuan, with a net profit margin of 8.9 percent, according to the interim report.
The Sino-South Korean joint venture Beijing Hyundai has ranked No 4 in terms of passenger car market share since 2012. With five production facilities, Beijing Hyundai's production capacity is set to reach 1.65 million units and provide nationwide coverage in the near future.
Jia said Beijing Hyundai's target is practical when considering the market situation and its internal strength.
"Beijing Hyundai can hardly challenge a higher rank, as its capacity is just above 1 million units. The two Volkswagen joint ventures (Shanghai Volkswagen and FAW-Volkswagen) and SAIC General Motors are talking about several millions. Behind them, Nissan is close and is accelerating."
haoyan@chinadaily.com.cn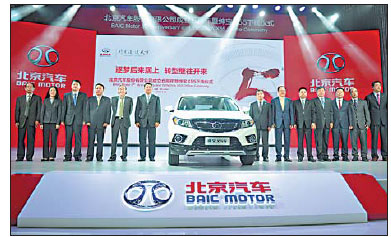 BAIC marks its fi fth anniversary on Sept 28, revealing an ambitious plan to join the top ranks of automakers in the Chinese market. Photos Provided To China Daily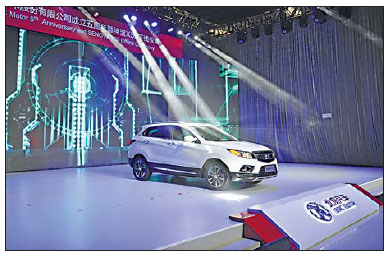 BAIC unveils its new compact crossover Senovo X55 at the fi fth anniversary ceremony of the company held on Sept 28.
(China Daily 10/12/2015 page19)
Today's Top News
Editor's picks
Most Viewed