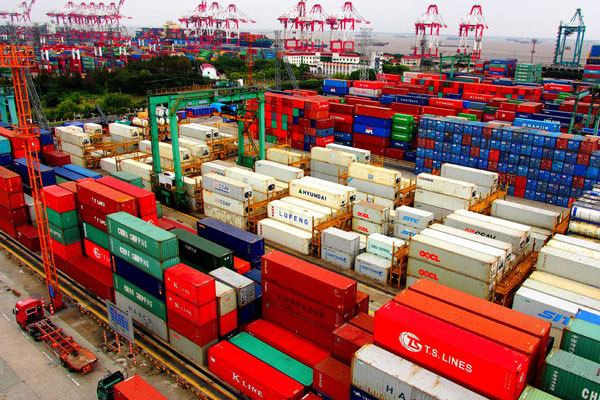 Containers pile up at Waigaoqiao Port in the Shanghai Free Trade Zone. [Photo/Xinhua]
BEIJING - China's foreign trade dropped 8.8 percent year on year in September to 2.22 trillion yuan ($352 billion), less severe than the 9.7-percent contraction in August, official data showed on Tuesday.
Exports dropped 1.1 percent to 1.3 trillion yuan and imports decreased 17.7 percent to 924 billion yuan. The trade surplus totaled 376.2 billion yuan, up 96.1 percent, the General Administration of Customs (GAC) said.
For the first three quarters, foreign trade dropped 7.9 percent year on year to 17.87 trillion yuan, with exports down 1.8 percent to 10.24 trillion yuan and imports down 15.1 percent to 7.63 trillion yuan. The trade surplus surged by 82.1 percent to 2.61 trillion yuan.
GAC spokesperson Huang Songping attributed the drops to the sluggish global economy, high costs and slumping commodity prices.
China's foreign trade with countries involved in the Belt and Road Initiative hit 4.5 trillion yuan, about 25 percent of the total foreign trade in the first three quarters.
China reported 2.59 trillion yuan of trade with the European Union, its largest trade partner, in the first three quarters, 2.54 trillion yuan of trade with the United States, the second-largest trade partner, and 2.11 trillion yuan with the Association of Southeast Asian Nations (ASEAN), the third-largest trade partner.
Exports to emerging markets have been rising. Foreign trade grew 5.8 percent with the ASEAN, 8.7 percent with India, 1.3 percent with Latin America and 6.1 percent with Africa. Enditem
Related story: 'Capacity exports' help China and the world from Xinhua
BEIJING - China's fresh resolution to seek industrial cooperation with other countries will create mutual benefits amid the feeble global economic recovery, rather than finding an outlet for polluting and outdated overcapacity.
Chinese Premier Li Keqiang has announced that the country will accelerate exports of equipment and promote industrial cooperation, a move that aims to encourage Chinese enterprises to invest abroad and helps less-developed economies to modernize.
After decades of rapid economic advance through opening up and reform, China has moved into the later stage of industrialization and accumulated huge capacity to churn out fundamental products including iron and steel, cement and plate glass.