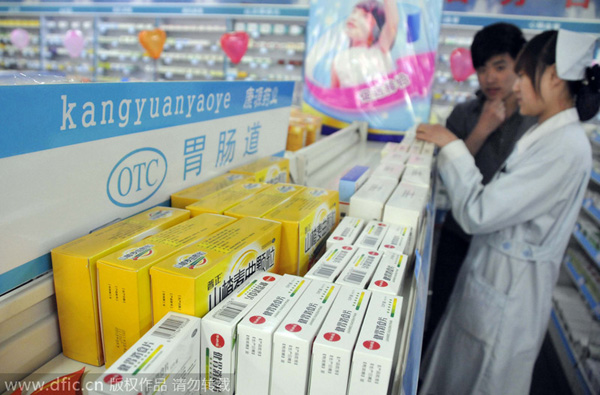 Man buys medicine with the help of a pharmacy sales person in Chongqing municipality, Southwest China, July 21, 2014. [Photo/IC]
BEIJING - Chinese hospitals have reported shortage of some cheap but essential medicines, due to alleged monopolies on raw materials.
According to a survey of 40 major hospitals across China by Beijing News, 342 of more than 500 types of essential medicines are in great shortage.
With demand for cheap medicines high and production shrinking, a price surge in raw materials has made them almost inaccessible.
"The market has been manipulated by manufacturers," said Wang Qingguo, a representative of a pharmaceutical company in Henan Province, central China. "The more scarce the raw material, the more likely it is to be manipulated and monopolized."
Many of the scarce medicines are essential for treating common diseases. Persantine, for example, is preferred when treating the elderly for cardiovascular problems due to its mild side effects. Two months ago, the raw material for producing the drug cost 500 yuan per kilogram or less. Now the price is 680 yuan.
Several other medicines facing shortage are used specifically to treat children.
The bidding mechanism for obtaining pharmaceutical sales licenses is another factor curbing production of affordable drugs. Under the current system, a company just needs to offer the lowest price in order to win a bid, with other factors ignored.
This has led to companies, after winning the bid and increasing their market share, reducing production of cheaper products to focus on more profitable drugs.
With many of the cheap drugs linked to the national medical insurance, natural price increases are restricted, making them even less desirable for manufacturers and further reducing production.
"It is making the sale of cheap drugs a money-losing business," Zhang Qiang, who has been in the pharmaceutical industry for more than 10 years, said.
Hospitals are also playing a role. The current system allows hospitals a 15 percent margin of profit on drugs, hence the higher the price, the bigger the profit.
"The hospitals have no enthusiasm for cheap medicines, even though they are as effective as more expensive ones," Zhang said.
China is trying to reform its medical system, part of which is to encourage hospitals making money from quality services rather than expensive drugs and examinations, but no apparent progress has been made.
Han Huixue, an official with the National Health and Family Planning Commission, said a more reasonable drug price should be reached between pharmaceutical companies and hospitals, and more coordination work should be conducted among the government, drug producers and hospitals.