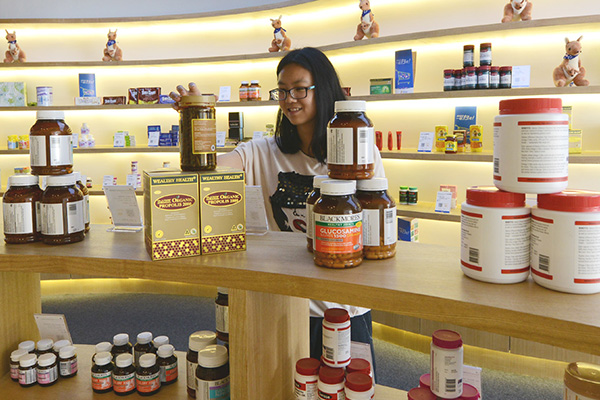 Supplements and vitamins from Australia on display at an e-commerce company in Zhengzhou, Henan province. Sales of vitamins and dietary supplements in China were valued at 100.1 billion yuan ($15.7 billion) in 2014. [Photo/China Daily]
Booming Chinese demand for foreign-produced vitamins and supplements has helped an Australian company triple its share price in the past year and prompted another to explore a possible sale.
Vitamin and dietary supplement sales almost doubled in the past five years in China, jumping 12 percent to 100.1 billion yuan ($15.7 billion) in 2014, according to market researcher Euromonitor International.
Blackmores Ltd said sales to Chinese and other Asian buyers accounted for A$150 million ($105.8 million), or almost one-third of annual revenue, in the year ended June 30.
"Rising incomes and increasing consumption of health products in China are key structural drivers behind this growth," Andrea Chong, an equities analyst at Goldman Sachs Group Inc in Melbourne, wrote in a report. She predicted the stock may reach A$143 in the next year, helped by "the rise of cross-border e-commerce in China breaking down traditional trade barriers" and the popularity of "brand Australia".
"There has never been a better time to be an Australian health products company," Chief Executive Officer Christine Holgate said.
"The Chinese grew up in an environment where natural medicine was always part of their way of life, but they are also very savvy consumers and they want the best product, made to the highest quality standards."
Melbourne-based Swisse Wellness Pty Ltd, which is controlled by the family of founder Kevin Ring and management, sees an "enormous" opportunity in China, CEO Radek Sali said.
"There is growing wealth and increasing awareness of health, and an appetite for high-quality products."
While the company does not sell directly into China, its products are sold there via online sites such as Tmall and Taobao, two platforms of Alibaba Group Holding Ltd.
"China's online retail channel is growing faster than any other channel and this is where we are," Sali said.
Swisse overtook Blackmores and Sanofi-Aventis Healthcare last year to become the biggest player in Australian market with about a 15 percent market share by value, according to Euromonitor.
China has the potential to overtake Australia as the largest consumer market for Blackmores, Goldman Sachs's Chong said on Tuesday after she changed her recommendation on the company to buy from neutral.
Blackmores last month reported an 83 percent jump in net profit for the year to June 30 as sales rose 36 percent to A$471.6 million.