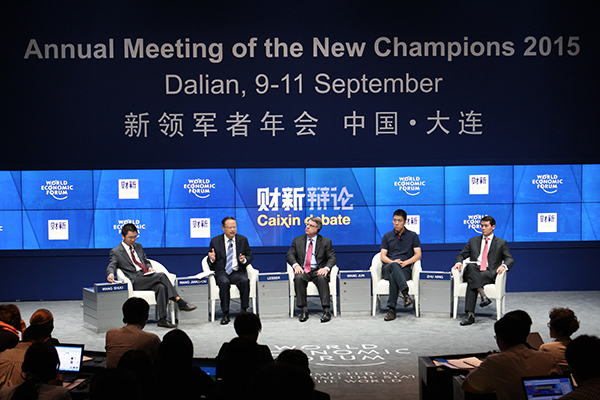 Officials and experts hold discussions at a forum on China's reform agenda on the sidelines of the Annual Meeting of the New Champions 2015 on Wednesday. The meeting, also called the "Summer Davos", is being held in Dalian, Liaoning province. [Photo/China Daily]
Economic transition to spur global recovery
China has enough safeguards to prevent the rapid cooling of its economy and will come out with more reforms despite the volatility, experts said.
Leading business leaders and economists from around the world echoed these views at the Annual Meeting of the New Champions 2015, or the "Summer Davos", hosted by the World Economic Forum in Dalian, Liaoning province.
Unlike the earlier meetings, which focused on China's high-speed growth and attractive investment opportunities, this year the discussions are centered on coping with the slower economic growth and the necessary tools to counter the downtrend.
China, considered the engine of global recovery, is moving toward a consumption-, service-led growth model, and reducing reliance on investment and exports. It is an "appropriate" strategy after decades of double-digit growth rate, said Rich Lesser, president and CEO of Boston Consulting Group, a global consultancy firm.
The ongoing market-decisive reform is the foundation for a smooth transition, during which period the growth rate will slow to around 7 percent, said Lesser. Growth potential still exists in areas like urbanization and consumption related to the Internet, he said.
"More supportive measures will ensure adequate capital flows to small and medium-sized companies. The State-owned companies, on the other hand, will become more competitive after the reforms. It is natural to see uncertainty and volatility during the transition," said Lesser.
During the first six months of this year, economic growth slowed to 7 percent, down from 7.4 percent in 2014. At the same time, the benchmark Shanghai Composite Index surged by 70 percent to form market bubbles.
Stock prices have undergone three rounds of corrections since June, wiping out most of this year's gains and have fallen by nearly 40 percent from the peak in June.
Li Daokui, director of Tsinghua University's Center for China in the World Economy and a former adviser to the People's Bank of China, the central bank, said the stock market correction is "normal", and its impact on the real economy was "limited".
Jing Ulrich, managing director and vice-chairman for Asia Pacific at JPMorgan Chase, said that the "first signs of stabilization in the real Chinese economy would be seen in the fourth quarter, and market participants should remain positive in the coming months."