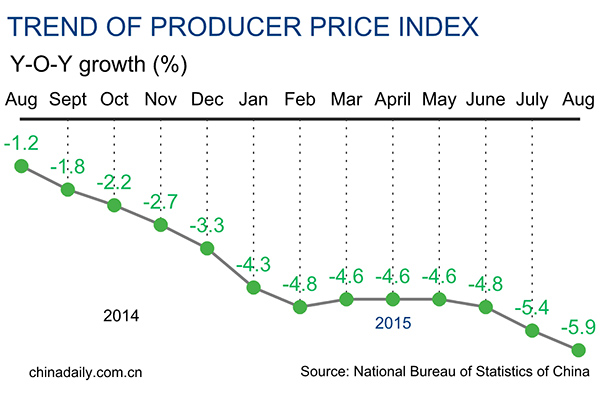 BEIJING - China's producer prices continued to fall in August, pointing to looming deflation risk, data from the National Bureau of Statistics (NBS) showed Thursday.
The producer price index (PPI), a measure of costs for goods at the factory gate, fell 5.9 percent year on year in August, widening from the 5.4-percent drop seen a month earlier.
The August reading dipped to its lowest level since the end of 2009 and marked the 42th-straight month of decline.
Specifically, prices of production materials fell 7.7 percent, while consumer goods edged down 0.8 percent.
For the first eight months, PPI averaged at a 4.9-percent drop year on year. On a monthly basis, the index went down 0.8 percent in August.
NBS statistician Yu Qiumei attributed the PPI contraction mainly to dropping prices of industrial products and decreasing costs for oil and natural gas production.
In a sign of weak demand, foreign trade in August dropped 9.7 percent year on year to 2.04 trillion yuan ($320.8 billion). Exports fell 6.1 percent year on year to 1.2 trillion yuan while imports slumped 14.3 percent to 836.1 billion yuan, official data showed Tuesday.
Huatai Securities predicts the fall of PPI to narrow in September thanks to a slowdown of falling prices of commodities.