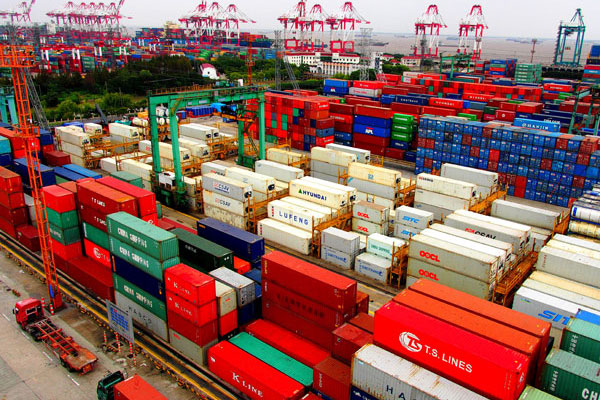 Containers pile up at Waigaoqiao Port in the Shanghai Free Trade Zone. [Photo/Xinhua]
China's exports fell less than expected in September, with monthly figures showing recovery, but a sharper fall in imports left economists divided over whether the country's trade sector is showing signs of turning around.
Exports dropped 1.1 percent from the same period last year to 1.3 trillion yuan ($206 billion), less than expected, the General Administration of Customs said.
Imports by value tumbled for the 11th straight month, a hefty dive of 17.7 percent year-on-year in September due to weak commodity prices and soft domestic demand. It was earlier forecast that the imports will drop 16.5 percent.
The combined exports and imports fell 8.8 percent year-on-year to 2.22 trillion yuan in September, less severe than the 9.7 percent contraction in August.
For the first three quarters, foreign trade dropped 7.9 percent year on year to 17.87 trillion yuan with exports down 1.8 percent to 10.24 trillion yuan and imports down 15.1 percent to 7.63 trillion yuan. Trade surplus surged by 82.1 percent to 2.61 trillion yuan.
"In general, there are no green shoots in this set of data," said Zhou Hao, senior economist at Commerzbank in Singapore.
"The growth of port throughput volume still remains low."
However, monthly figures were much more rosy. Exports to every major market rose from August, as did imports.
Import volumes are a leading indicator for exports in China, given a large share of materials and parts re-exported as finished goods.
China posted trade surplus of $60.34 billion for the month, the General Administration of Customs said on Tuesday, higher than forecasts for $46.8 billion.