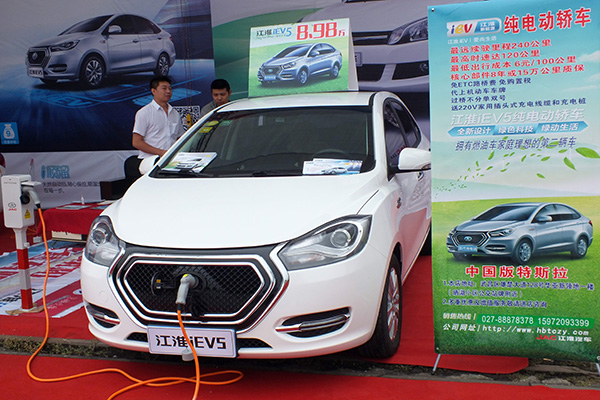 A customer examines an new-energy car at an auto show in Changzhou. More policies to boost the NEV sector are in the pipeline. [Photo/China Daily]
Plan stipulates NEV facilities be made available
The Chinese government plans more efforts to build charging networks, giving an extra boost to the development of new-energy vehicles in the world's largest auto market.
China will finish building a charging network that can meet the demand of 5 million electric cars and plug-in hybrids by the end of 2020, the State Council said in a document released on Friday.
The document stipulates that all parking lots at newly built apartments must offer charging facilities or ensure that such facilities can be installed later and 10 percent of public parking lots should be able to install charging facilities.
It also set the goal of building an inter-city fast-charging network to cover most major cities by 2020.
The document came after the State Council called for measures to beef up the development of new-energy vehicles at a meeting on Sept 29.
It urged local governments not to impose restrictions on the use or purchase of new-energy vehicles and to remove any such restrictions.
In several cities, including Beijing, applicants have to win licenses for new-energy vehicles through a lottery.
Statistics show that less than 40 percent of applicants won licenses in Beijing's bi-monthly NEV lottery in August.
The capital city's transport authorities have not announced any change since the State Council announced its decision in late September.
The State Council demanded that local governments and institutions should ensure the proportion of NEVs among their newly purchased buses and cars.
Earlier policies required that more than 30 percent of new vehicle purchases should be new-energy vehicles.
Many experts believe the moves will further stimulate rapidly rising sales of new-energy vehicles in China.