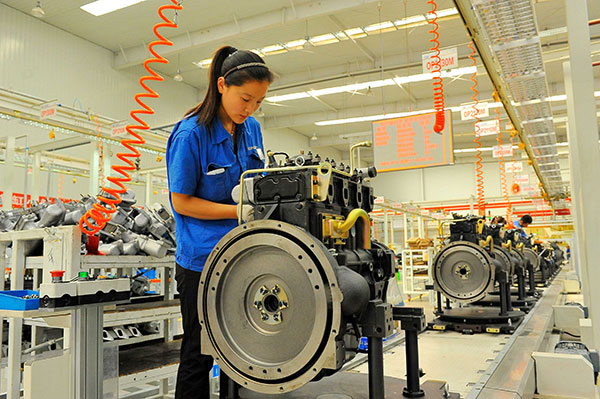 Workers assemble engines at a factory in Weifang, Shandong province. [Photo by Wang Jilin/China Daily]
BEIJING - In the past three months, the world's financial pages have been barely short of disappointment and worry about China. On Wall Street, associations with China, once a selling point, have almost become a drag for the share price of US multinationals.
But Michael Bloomberg is undaunted.
"China's economy is still growing... I'm very optimistic," the 73-year-old US entrepreneur and founder of financial information provider Bloomberg LP told Xinhua.
"Don't always feel that the world is coming to an end. The press tends to do that. They look for problems. [In] the real world, nothing goes in a straight line," said Bloomberg, also a three-term mayor of New York City.
Senior management of other US firms interviewed by Xinhua on the eve of President Xi Jinping's state visit were also upbeat on prospects in China despite the apparent stalling of its economy. They see increasing presence in China as a must for their companies as global players.
By the end of June 2015, a total of 65,000 US firms had invested in China, with a combined investment of $76.38 billion, accounting for 4.8 percent of total foreign direct investment into China, the Ministry of Commerce (MOC) told Xinhua in a statement on Thursday.
In 2013, 17,000 US firms which had reported their operations to the MOC posted a total revenue of 2.3 trillion yuan ($361 billion), with a net profit of 159.1 billion yuan.
At this writing, American computer giant Dell announced it plans to invest $125 billion in China over the next five years, showing its long-term commitment to one of its key markets.
Cause for concern
The China story, one of huge contribution to global growth for about a decade, has veered into more worrying territory in the past few months, which have held tepid economic data, a stock market rout and a sudden deprecation of the currency.
Growth has fallen from 10 percent to 7 percent, to what officials refer to as the "new normal." Since June 12, over 38 percent has been wiped off the key Shanghai index, and the yuan depreciated 4.6-percent in three days in mid-August.
"I suppose it's normal that people will say, 'Oh, is this the beginning of the end?'" Bloomberg said.
He is not worried, however. "Business people don't go up and down every day. They look to the future."
"You don't build a plant to sell products for the next 10 years and worry about two months' change, or even a year's change. You don't say, 'Oh, I don't want my kid to go to college because the market went down 5 percent,'" Bloomberg said.
He sees China's economy continuing to grow in the longer term, and small fluctuations as natural.
Mark Vergnano, chairman and CEO of Chemours, a chemical company newly spun off from US industrial giant DuPont, also suggested some perspective.
"When you think about China from a longer period of time, and think about how the country has developed in the last 35 years, it's on the normal path of what development you'd see," he told Xinhua.
According to Vergnano, what China is going through is natural progression for an economy, and the people most likely to be disappointed are those with short-term, rather than long-term interests.
There is no question that the economy is slowing, but it still has strong fundamentals. Vergnano pointed out that China could expand by 7 percent this year and the rest of the world by 2 percent, around a third as much.
Lloyd Blankfein, Goldman Sachs chairman and CEO, told Bloomberg TV in late July that China's economic growing pains are understandable given it is trying to get through in one generation what took 150 years elsewhere. "But it doesn't stop me from thinking that in the long term, it'll sort it out," he said.
"This is going to be a great century for China, like the 20th [century] has been a great century for the United States. But in our great century, we had a lot of bad years. And China will have a lot of bad years in their century," Blankfein said.
Reasons for optimism
Bloomberg had an unusual reason for his optimism -- the many smiling faces in China. "One of the things I do when I'm in a city outside of New York [is to] see if the people walking down the streets are smiling."
"You see a lot of smiling faces here. Very few people are dour and look depressed. Most people here are happy, gung-ho. They have an enthusiasm," he said.
China, Bloomberg said, was once a country where everybody went around on bicycles and very few people spoke English. Today, there are cars everywhere, and the average person has much more knowledge about the outside world.
"The Middle Kingdom used to be very isolated, and today [...] it is very willing to look outside -- at other people's experience, and if they think it fits, they adopt it."
"China [has] a history spanning 5,000 years and you're worried about two months? Seriously, you can't worry about the short term," he said.
According to the National Bureau of Statistics, China's gross domestic production (GDP) stood at 63.61 trillion yuan in 2014, and per capita GDP was 46,629 yuan.
These indicate remarkable progresses from 1980, when GDP was 455.2 billion yuan and per capita was 1,012 yuan. From 1980 to 2014, China's GDP expanded by an average rate of about 9.8 percent annually at comparable prices.
Bloomberg said China still has enormous potentials based on its huge population, rich resources, education level and strong work ethic.
Vergnano is also confident for two reasons. China is a large economy with a huge population of consumers, and "if you're a global player, you have to be here in China," said the Chemours chief, who previously worked for DuPont for 35 years.
Another reason is China's government, which he believes will drive the economy where it needs to go. "I've been coming to China since the mid-1980s, and in my impression the government takes a long-term view of the economy," Vergnano said.
China accounts for about 10 percent of revenue for Chemours, which has about 300 employees on the mainland and posted net sales of $1.5 billion in the second quarter this year. Vergnano is aiming to have 15 to 20 percent of revenue coming from China in two years.
Bloomberg also sees huge potentials for global companies to do business in China. "China has everything in a market that the seller should want -- large population, lots of well-educated people, [and] a belief that tomorrow is going to be better."
By any rational basis compared to anywhere else, China is still spectacular, he said.
Bloomberg LP's business has grown in China and it recently hired about 150 people on the Chinese mainland. It will keep investing and hiring new people, its founder vowed.