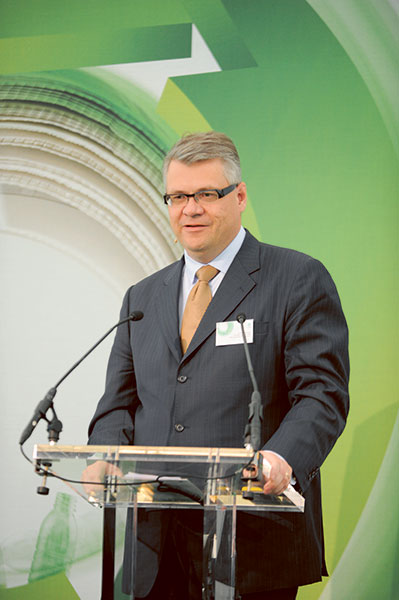 Jussi Pesonen, president and chief executive officer of UPM
Finnish company uses 'Biofore' as a new motto to reinvent itself, says its president
Jussi Pesonen, president and chief executive officer of UPM, one of the largest makers of paper in the world, says that despite the turbulent times in the market, the Finland-based company has managed to hold its head above the water by reinventing itself as a "Biofore" company.
"Biofore is a new word that means a commitment to efficient operations, profitable business and a more sustainable future, demonstrated through concrete actions and a string of R&D successes that complement existing businesses," said Pesonen.
"Biofore is in our DNA. It is there in all what we do, be it innovation, efficient products, new markets, new customers, growth, and the transformation to a multi-product company," he said adding that it is also all about effective leadership.
Though the global papermaking industry has experienced solid growth over recent years, it has seen slower demand and growth after the advent of digital technology. Many firms also have to adjust to the changes and even eliminate products to avoid overcapacity.
Pesonen recently spoke to China Daily about the company's development strategies. Following are edited excerpts of the interview:
How do you perceive the future for UPM in the digital age?
Paper is one of the most sustainable products in use today: Its primary raw material, wood, is renewable and fully recoverable. After use the product can be easily recycled into new paper.
I don't think digital products will sound the death knell for us. Different media channels can complement and support each other. The real question is not a choice between electronic media or paper, but what combination of these has the least impact on our environment. Paper is a sustainable part of today's media mix. It's a powerful communication tool which is based on a renewable resource and recyclable material.
How would you rate growth prospects for the industry in China?
I would predict a robust future for the industry in China. Most of the paper products sold in China have shown solid growth in recent times. We have high confidence in this market. The growth rate for paper products in US and Europe has been about 3 percent to 4 percent, while it is about 7 percent in China.