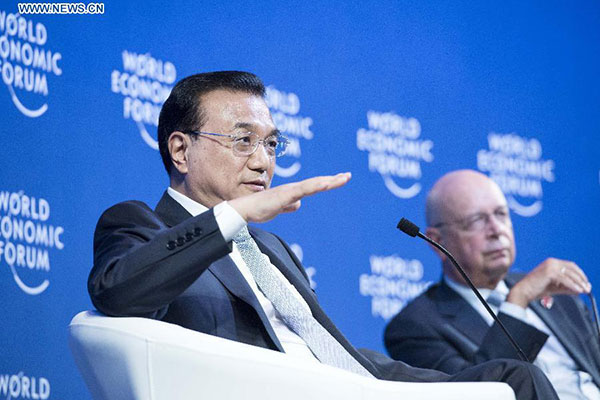 Chinese Premier Li Keqiang (L) exchanges views with Klaus Schwab, founder and executive chairman of the World Economic Forum and other participants at the World Economic Forum in Dalian, Northeast China's Liaoning province, Sept 9, 2015. [Photo/Xinhua]
DALIAN - Chinese Premier Li Keqiang called for stronger international cooperation in production capacity in order to solve structural problems in global growth on Thursday.
Citing a negative spillover effect of quantitative easing, Li said a better way to stimulate world economic growth is to strengthen the real economy, including pushing forward structural reforms at home and promote international cooperation.
The Chinese premier made the remarks in an address to the annual meeting of the New Champions, also known as the Summer Davos Forum held in China' s northeast port city of Dalian.
China' s Belt and Road Initiative and expanding international cooperation in production capacity, said Li, would further open up China' s economy, let each country play out its comparative strengths and help shape a more balanced and inclusive global industrial chain.
International cooperation in production capacity would enable countries at different development stages to connect their demand and supply and inject new momentum into stabilizing world economic growth, said Li.
Developing countries have strong demand for equipment and infrastructure, while many middle-income and developed countries need renovation, said Li.
China' s high-quality equipment and relatively low price, as well as its strong construction capacity, possess great potential for international cooperation, he said.
Such cooperation, which has already attracted the participation of many developed and developing countries, will help solve problems in capacity growth, upgrade economic structure, further integrate the global industrial chain and open up new markets.
China is ready to buy advanced technology and equipment from developed countries and combine them with its mid-range equipment to satisfy the needs of developing nations, serving as a bridge in international cooperation in production capacity, said Li.
The Chinese premier urged entrepreneurs to seize the business opportunity and called for stronger support from governments, international organizations as well as financial institutions, suggesting international capacity cooperation be put into bilateral or multilateral cooperation framework.
"The Chinese economy will integrate deeper into the rest of the world," said the premier. "We are ready to work with other countries to promote a free, open and non-discriminatory multilateral trade system."
The Chinese premier also pledged to offer financial facilities to support Chinese and foreign enterprises joining international cooperation in production capacity.
Responding to a question from World Economic Forum Founder and Executive Chairman Klaus Schwab, Li suggested the initiative would boost global growth by unlocking tremendous demand, as a majority of the world population is still located in the primary and middle stages of industrialization.
Citing his experience in Latin America, Li said Chinese companies and those in developed nations may work together to produce high-quality, inexpensive equipment and develop huge markets in third-party countries.
This year's Summer Davos Forum, which will last until Friday, focuses on innovation and entrepreneurship. More than 1,700 business leaders and experts from more than 90 countries will share their thoughts on economic outlook as well as new trends in technology, finance and energy.