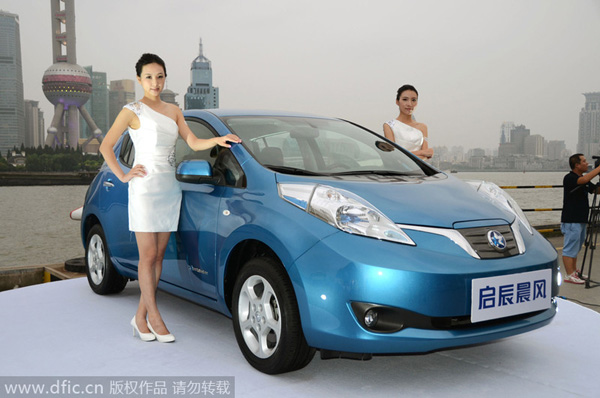 Models stand by the Vanucia e30, a five-seater hatchback electric car developed by a joint venture between Japan's Nissan Motor Co and China's Dongfeng Motor Co, during a presentation in Shanghai, Sept 10, 2014. [Photo/IC]

The joint venture between Japan's Nissan Motor Corp and China's Dongfeng Motor Corp violated antitrust laws, according the Chinese regulators
Chinese authorities fined Dongfeng Nissan, Nissan Motor Corp's joint venture with China's second-largest automaker Dongfeng Motor Corp, $19.2 million on Thursday for violating antitrust laws.
Other global automakers and suppliers that were previously fined for such violations include Audi, Chrysler and Mercedes-Benz.
The 123 million yuan ($19.2 million) fine is lower than the 350 million yuan ($54.8 million) fine on Daimler's Mercedes-Benz levied by authorities in Jiangsu province in April and the 250 million yuan ($39.1 million) on FAW-Volkswagen's luxury brand Audi. However, it is higher than the 31.6 million yuan ($5 million) Chrysler was fined by regulators last year.
Xu Xinyu, an official at the National Development and Reform Commission's Price Supervision and Anti-Monopoly Bureau, said antitrust investigations into Dongfeng Nissan were jointly conducted by the NDRC and the Guangdong Development and Reform Commission.
"The penalty shows China's antitrust law enforcement is evenly applied-all companies are treated equally, and we do not target any brand or country," Xu said on Thursday.
"It also indicates formulation of antitrust guidelines for the automobile industry is urgent, and it will be a major focus for the NDRC's antitrust efforts in the coming period," he said.
Authorities in Guangdong also levied a combined fine of 19 million yuan ($2.9 million) on Dongfeng Nissan's 17 authorized dealers in Guangzhou, according to the Guangdong Development and Reform Commission.
The automaker was found to impose strict price restrictions on new car sales at its authorized dealers in Guangdong province. Moreover, a number of authorized dealers in Guangzhou area met and reached a price-fixing agreement under the automaker's organization, officials said.
Zhang Xiangchen, deputy negotiation representative for international trade at the Ministry of Commerce, said on Thursday that most of the anti-monopoly cases that led to fines involved domestic enterprises, and the law enforcement was not targeting foreign enterprises.
"However, China's efforts in antitrust enforcement began after those in Western countries, and the situation is more complicated, so there may be some procedural or technical problems in practice, and the regulators will make progress," he said.