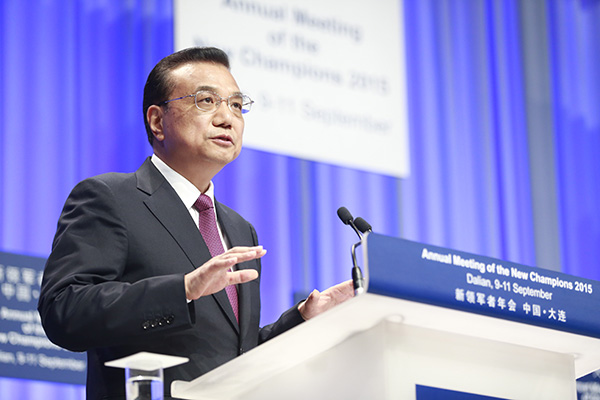 Premier Li Keqiang speaks at the Annual Meeting of the New Champions of the World Economic Forum in Dalian, Liaoning province on September 10, 2015. [Photo provided to China Daily]
China won't allow problems during its transitional period to affect the world, Premier Li Keqiang pledged at an international business forum on Thursday.
The central government has sufficient "policy weapons" to minimize the ripple effect of China's difficulties and uncertainties and to continue adding momentum to global economic growth, he said.
Li said this will not just be empty talk, and the government will fine-tune its economic policies at the right times to prevent short-term turbulence from evolving into bigger risks.
China's future growth will come increasingly from industries driven by new technologies and business processes, the premier said.
He was speaking to an international audience at the Annual Meeting of New Champions at the World Economic Forum in Dalian, Liaoning province. The event is also known as the Summer Davos.
Li cited a case he came across recently in which a small company had formed a network of 280,000 engineers to jointly develop products on 30,000 machines that would otherwise have been left unused in Northeast China.
The Chinese economy's shift from export-led, investment-fueled growth to consumption-driven growth is inevitably a painful process featuring many ups and downs, the premier said.
But positive factors are increasing, as shown by companies such as the one with the extensive network of engineers in the northeast. "There are hundreds of thousands of companies like that in China. Their innovation and creativity is beyond our imagination.
"Whether or not they will succeed, they are the new champions and represent the future," Li said.
He said that although there is turbulence, China's economic fundamentals remain sound. The central government's pro-growth policies have started to take effect, resulting in more positive factors and more encouraging economic indexes.
Commenting on the premier's speech, Gong Li, chairman of consultancy firm Accenture Greater China, said the country has recognized the key role of mass entrepreneurship and innovation for its future growth and job creation.
This means one of the most critical success factors of its economic transformation is to champion innovators and raise productivity by involving smaller and private enterprises through stronger policy support and by improving public services.