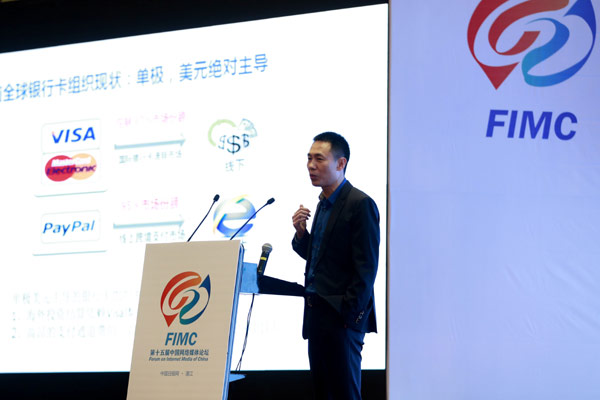 Luo Feng, CEO of IZP Technologies Group, speaks at the 15th Forum on Internet Media of China in Zhanjiang, Guangdong province, July 17. [Photo/IC]
The driving force behind China's trade growth over the next decade lies in One Belt One Road initiatives and the development of Renminbi-led cross-border clearing, said a CEO mapping out ambitious moves along the routes.
"We aim to build Silk Road stations, a Renminbi-led Visa-like cross-border payment system and a second 'Frankfurt airport' along the routes in Italy to help deliver growth," Luo Feng, CEO of IZP Technologies Group, told chinadaily.com.cn.
The country's big data processing conglomerate operates e-commerce platforms Haixuan and Globebuy and online payment arm Globebill that has been licensed to set up a card organization in Europe.
The One Belt One Road initiative needs its own clearing infrastructure, where retailers overseas can buy Chinese goods with their home currency or exchange directly for Renminbi, Luo said at the 15th Forum on Internet Media of China in Zhanjiang, Guangdong province.
The forum, led by the Cyberspace Administration of China, provides guidance on what kind of roles media convergence and technological innovation can play in the context of the new normal, and how Internet media can better help boost the Silk Road.
The initiative refers to the Silk Road Economic Belt and the 21st Century Maritime Silk Road proposed by President Xi Jinping in 2013, with the network passing through more than 60 countries and regions in Asia and Europe, covering a total population of 4.4 billion.
Chinese enterprises invested more than $4.86 billion along the routes in the first five months of this year, according China's Ministry of Commerce.
A new "Visa" along the Silk Road
Improving cross-border clearing and settlement is crucial in elevating trade growth, said Luo, as he aims to set up a new "Visa" system along the Silk Road to drive down transaction fees and help small- and medium-sized businesses.
"Cross-border transaction costs could be as high as 5 percent, even more than certain sector's profit margin. Small and micro companies sometimes can't get a letter of credit which constrains exports," said Luo.
The IZP's Globebill, with customers from 104 countries, charges a transaction fee 40 to 80 percent cheaper than Visa, said the 43-year-old CEO. The platform was among the pilot companies approved by the State Administration of Foreign Exchange for cross-border e-commerce foreign exchange and payment.
"Nigeria has a population of 140 million, and to buy Chinese goods they first had to exchange for US dollars before then exchanging US dollars for Renminbi," he added. Consumers under Globebill's network can now make purchases using their home currency.
IZP signed an agreement with Belgian service provider Cnext at the end of June to work together for issuing a Euro-RMB dual-currency credit card, among many deals struck during Chinese Premier Li Keqiang's visit to Belgium.
The cooperation came after IZP signed a bank card settlement agreement with Lithuania's central bank, as Globebill aims at setting up a settlement network covering the whole of Europe, said the company.
"Our goal is to reach cooperation with regulators of 100 countries by 2017," said Luo, adding that IZP is now eligible to issue credit cards and deliver settlement with 30 of them along the "One Belt One Road".