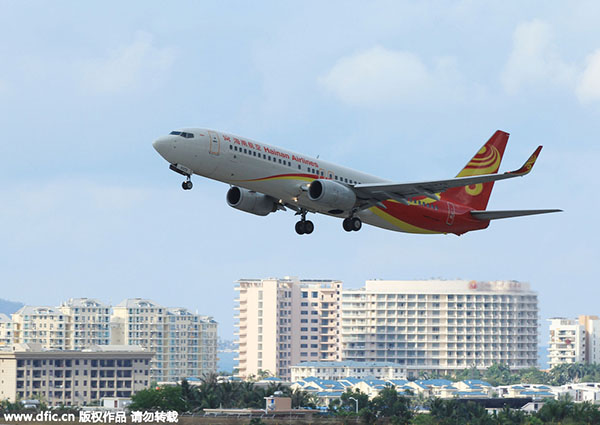 A plane of Hainan Airlines takes off from the Sanya Phoenix International Airport in Sanya city, South China's Hainan province, May 1, 2015. [Photo / IC]
Hainan Airlines anticipates huge surge in international business on the back of Belt and Road strategy, reports Wang Wen. Wang Wen Hainan Airlines Co Ltd expects international business to account for at least 40 percent of its total revenue by the end of this year, a top company official said.
The fourth-largest carrier in China is also eyeing major expansion on its international routes as it charts options to grow international business from the existing 16 percent, said XinDi, chairman of Hainan Airlines, adding that "the growth goal is formidable, but achievable".
On June 15, Hainan Airlines launched a new direct service from Beijing to San Jose, California, and in the subsequent week, added two more direct services to the United States from Shanghai.
Hainan Airlines launched direct flights to Rome in May and plans to add more new destinations like Tel Aviv in Israel and Prague in the Czech Republic this year, he said.
"We will not be satisfied with this. Instead, we will keep seeking new opportunities for more routes in the US and Europe. Company officials have already started exploring various destinations even as we are celebrating a new route," said Xin.
Xin, who took over as chairman of Hainan Airlines in 2014, attributed Hainan Airlines' expansion in the global market to government policies and market demands.
The chairman said the government has been encouraging more enterprises to go abroad and some enterprises have blossomed in the international market.
The Belt and Road Initiative, a development strategy proposed by President Xi Jinping in 2013, is another opportunity that is expected to generate huge business for the Chinese carrier. The initiative refers to the Silk Road Economic Belt, which will link China with Europe via Central and Western Asia, and the 21st Century Maritime Silk Road, which stretches from eastern and southern China to Southeast Asia, South Asia, Africa and Europe. The plan is expected to benefit about 4.4 billion people in 65 countries.
At the same time, rapid growth and competition in the domestic market is prompting an increasing number of Chinese carriers to look abroad for growth.
"In the past three years, Chinese carriers grew at a much faster pace than anticipated and were more active expanding international routes, rather than the domestic market," Xin said.
During the first quarter of this year, growth in the domestic aviation sector remained flat at 11 percent, compared with the same period in 2014. Growth in international routes, however, surged by 57 percent during the period, according to the Center for Aviation, a global aviation market analysis company.
The significant increase in Chinese outbound tourism as well as international trade have also contributed to the growth in international air travel demand, Xin said.
Rising competition from high-speed railway lines in China is also prompting carriers like Hainan Airlines to find more opportunities in the international market, he said.
Chinese carriers are expected to overtake their US peers in flights between China and the US, with Air China Ltd, China Eastern Air-lines Corp Ltd, China Southern Airlines Co Ltd and Hainan Airlines collectively planning 2,028 weekly US-China flights from the third quarter of this year, compared with 1,853 flights offered by US companies.
Li Xiaojin, a professor at the Economic Management Research Base at the Tianjin-based Civil Aviation University of China, said: "The development of high-speed railways in China has prompted Chinese carriers to hunt for more capacity in the global market. The domestic market, especially the short-to-medium-range routes, have been affected by the high-speed railways."
Hainan Airlines Chairman Xin agreed with Li, and said that the impact has been more in the eastern part of China than the central and western regions.
"Hainan Airlines' current international market share is too small and we need to catch up in a short time," Xin said.
Air China, which is the best internationally developed carrier in China, got 37 percent of its total revenue from the international market in 2014, while the share for Hainan Airlines was just 13 percent.
"Hainan Airlines will make faster moves in the global market," Xin said.
As a latecomer in the international market, Hainan Airlines has to face the fact that the market between major cities in China and major international cities has been occupied by the "Big Three" carriers in China-Air China, China Eastern and China Southern.
"We know where the problem is, and we do not have any advantage over our major competitors in the outbound market in Beijing, Shanghai and Guangzhou," Xin said.
"Fortunately, the market in China is huge and the competition in some new markets is different," he said.