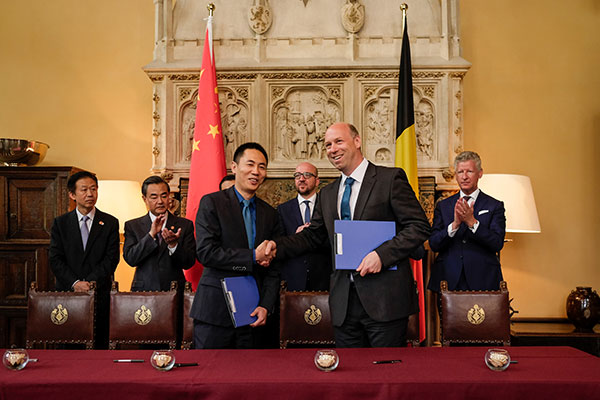 Luo Feng, CEO of IZP Technologies Group, signs a cooperation agreement with Cnext in Brussels, June 29, among many deals struck during Chinese Premier Li Keqiang's visit to Belgium. [Photo provided to China Daily]
The company plans to set up a Middle East center in Dubai overseeing the region, as Globebill reached an agreement in April to set up a payment system and bank card settlement system in Saudi Arabia.
The CEO dismissed a face-to-face competition with the industry behemoth. "We target Visa, though differently from its 98-percent focus on individuals. Globebill mainly serves corporate clients that have cross-border businesses with China," he said.
"The US dollar dominates the dual-currency card market right now, but in 10 years, it will be Renminbi plus one," said Luo. "No one can keep us from achieving the goal."
Silk Road stations
In the same way that stations were positioned along the ancient Silk Road where businessmen could rest and change to a faster horse, IZP has evolved the concept.
The new version would contain five key elements, including an O2O exhibition center, bonded export processing zone, cross-border financial infrastructures, standardized electronic custom clearance system and big-data based marketing network.
"Roads cannot work without stations," said Luo, adding that the company is setting up a 20,000-square-meter exhibition center in Belarus, Eastern Europe, expected to open in October, and another 35,000-square-metered in Colombia, Latin America.
He explained that travel expenses are within $200 for retailers on the same continent to see products on display before ordering online. "The exhibition centers will act like an updated 'China Import and Export Fair', reaching clients globally on a daily basis, sparing them the trouble of applying for a China visa while exchanging and carrying money around."
Proposing bonded export processing zones as a solution to resolve trade barriers, Luo said Chinese companies will benefit from moving part of their manufacturing to destination regions.
"The EU requires up to 35 percent of costs to be from the region in order to accept goods as 'EU made' and tariff-free," said Luo, adding that Lithuania, with well-trained English-speaking workers, has agreed to offer Chinese companies full tax-exemption for the first six years and 50 percent off over the next 10.
"We are also cooperating with Merchant International, a subsidiary of China Merchant Group, to forge port alliance and set up a standardized customs clearance system," said the CEO. According to IZP, the initiative has won more than 26 ports worldwide.
Speaking of the next move, Luo said it will include buying a second Italian airport, following IZP's acquisition of Parma airport last year, though he refused to disclose the name.
"Frankfurt is well-known as an air hub but is already overburdened. We want to build a second 'Frankfurt airport' in Italy," said the CEO, recalling hours of waiting for transit flights.
The airport acquired, able to accommodate Boeing 747s, will also contain a 60,000-square-meter bonded area where a duty-free store can be set up to entertain Chinese tourists on shopping sprees, said Luo, adding that the deal will move to settlement soon.