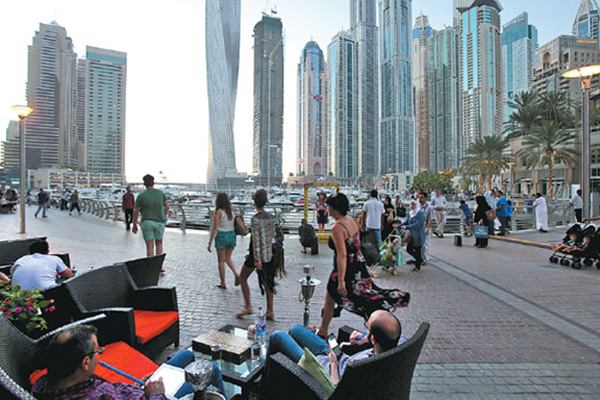 People pass by the water canal and some of the world's tallest buildings in the bustling heart of Dubai. [Photo/Agencies]
Competitive property prices are attracting Chinese investors now that the UAE city has emerged as an important business hub in the Silk Road Economic Belt Initiative
Ying Zhi runs a high-end bar and decided to buy property in Dubai after falling in love with the city during a trip to United Arab Emirates.
The 25-year-old chief executive of an oyster lounge in Wuhan, Central China's Hubei province, plans to invest around $250,000 in a holiday home in the Gulf state.
"I really liked the lifestyle in Dubai and I thought it would be cool to own a holiday place there, so I can relax and have a good time when I visit the city," he said.
Ying is just one of a growing group of Chinese investors buying residential and commercial real estate in Dubai.
Gao Jian, 45, who works for a Chinese solar company, which has been expanding its operations in the UAE, bought a small apartment in Dubai earlier this year.
She pointed out that compared with house prices in Beijing, real estate in Dubai is relatively cheap.
"My company opened a branch in Dubai around one year ago and I was relocated to work in the city," Gao said.
"I decided to buy a small apartment after I rented one for the first six months. This should be a good investment and I expect a solid return on the property in future."
But Gao has no plans to sell the apartment just yet. "It is very convenient if my family come to Dubai for a visit, so I am not planning to sell it anytime soon," she said.
Figures from Dubai's land department have showed that about 1,000 Chinese investors moved into the market last year. They spent $353 million on land, residential and office real estate in the city. This was nearly a threefold increase compared to 2013.
"Investment into Dubai from China has grown faster than any other country in the world in recent years," Ziad El Chaar, managing director of DAMAC Properties, a luxury real estate developer in the UAE, said.
Competitive property prices in the residential and commercial sectors have also attracted Chinese investors now that Dubai has emerged as an important hub in the Silk Road Economic Belt Initiative.
But it is not just individuals searching for holiday apartments to invest in that are looking at Dubai.