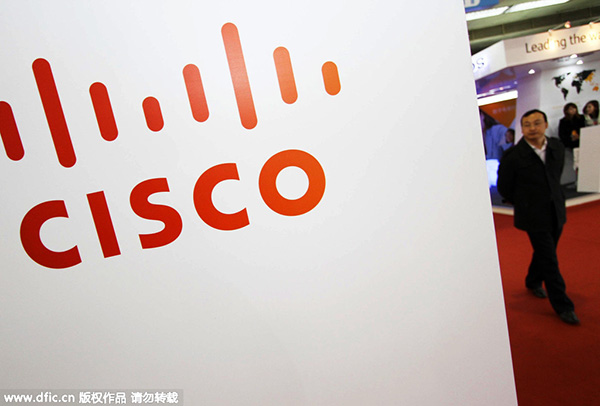 A visitor walks past the stand of Cisco Systems during an exhibition in Beijing, China, March 25, 2011. [Photo/IC]
Cisco Systems Inc, the US multinational technology company, on Wednesday pledged more than $10 billion in investment in China.
The cash injection, which will last "several years", will be used to "support local innovation, help with the country's ongoing transformation and support the growth of local economies and businesses", the San Francisco-based tech giant said in a statement.
Chairman and CEO John Chambers, and incoming CEO Chuck Robbins, revealed the ambitious plan in Beijing after meeting with top Chinese officials including Vice-Premier Wang Yang.
Cisco has also signed a memorandum of understanding with the National Development and Reform Commission to expand in China, focused on innovation, equity investment, research and development as well as job creation, it said.
The rather surprising announcement came amid increasing information security concerns by the Chinese government.
Overseas information technology firms, including Cisco, IBM Corp, Microsoft Corp and Qualcomm Inc, are all feeling the pressure to gain orders in the government procurement segment as regulators raise the bar on IT safety and security.
Chambers said in May that orders from China fell by 20 percent during the quarter ending April 25 because of security tensions between the United States and China.
Cisco was the sixth-largest IT hardware vendor in China at the end of last year, according to research firm International Data Corp.
"We look forward to furthering our digitization efforts (through the new investment), contributing to talent development and GDP growth opportunities in China," said Chambers.
The company also expressed its interest in playing along with a number of long-term national strategies such as "Made in China 2025", a plan to boost high-end manufacturing, and "Internet Plus", a move to lift the use of IT in traditional industries.
Kitty Fok, director of IDC China, said Cisco's performance in the country has been affected by the security issues, and the US government's decision not to use products from Chinese vendor Huawei Technologies Co Ltd.
"This planned investment is important for Cisco to show its commitment to China," Fok said. "The next question is whether it can get the right local partner."