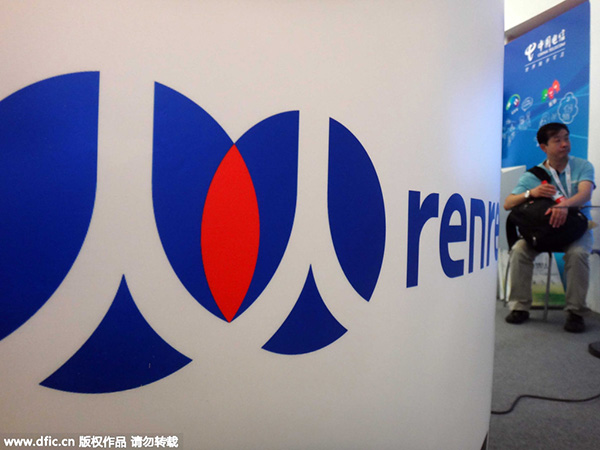 A visitor sits at the stand of online social networking website renren.com during China Internet Conference 2012 in Beijing, Sept 11, 2012. [Photo/IC]
US-based firm offers alternative investment channel, but will Chinese investors participate?
The world's first company to successfully crowdfund equity investment for real estate online is seeking a China market entry, backed by a Chinese social media company.
Fundrise, a Washington DC-based real estate investment crowdfunding company, received $27 million in funding from Beijing-based Renren Inc, Benjamin Miller, co-founder and chief executive officer of Fundrise, told China Daily.
It is a small part of the Renren's pivot to Internet finance. The company began buying into many tech startups as its Facebook-like business lost momentum. As much as $500 million in venture capital has been invested in more than 30 deals, and more than half of that money went into e-finance, according to Forbes.
Renren declined to comment on those numbers or on its specific investment in Fundrise.
Founded in 2012, Fundrise's website allows lenders to invest in specific properties in US cities for as little as $100 per share and as much as $10 million. Returns have typically been 12 to 14 percent, the company said.
The 50,000 investors the company has attracted are all in the United States. Benjamin Miller and his co-founder Daniel Miller, who is his brother, are looking to expand the group of investors to countries like China, Canada and Israel.
Renren and Fundrise are still figuring out how to launch the project in China, with no details settled. As Miller finished a China trip recently, he admitted he knows very little about "what Chinese investors want".
"It may take years. We are not in a hurry. It's a long-term bet," he said, adding he hoped that Renren's investment could help boost Chinese users' trust in the US company.
One of the key challenges is that Chinese investors are not familiar with the "real estate crowdfunding" concept, which even in the US is in its infancy.
"Chinese investors typically own a house. It is not normal for them to own a piece (of a house)," Benjamin Miller said. "In addition, very few people in China rent an apartment."
Most of Fundrise's projects are multi-family residential projects in the US, which provide returns in the form of rent.