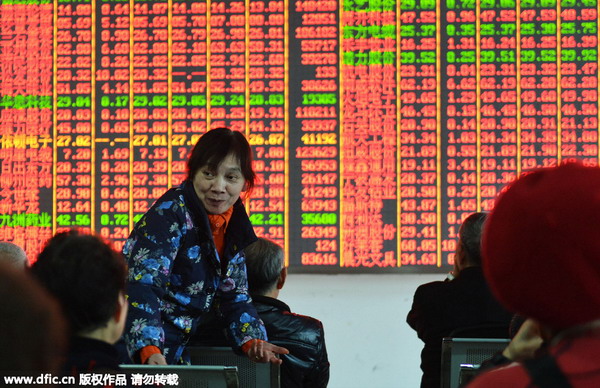 Chinese investors look at prices of shares (red for price rising and green for price falling) at a stock brokerage house in Hangzhou city, East China's Zhejiang province, March 30, 2015. [Photo / IC]
The China Securities Regulatory Commission said on Friday it will crack down on "increasing" illegal trading activity as the country moves ahead with innovative new trading methods and tools.
The initial phase of the campaign will target five specific types of illegal activities, according to the CSRC:
financial fraud involving the mergers and acquisitions of listed companies
stock price manipulation using capital or information advantages
insider trading on the share transfer platform for unlisted companies
trading on the basis of non-public information by employees of securities firms
futures market manipulation
The move comes amid a market boom that has seen the benchmark Shanghai Composite Index surge more than 80 percent over the past six months.
"Some new and hard-to-detect illegal trading tactics have emerged along with innovative reform in the country's private equity sector, the over-the-counter market, the futures market and the new business of margin trading and short-selling," Zhang Xiaojun, the CSRC spokesman, said in Beijing.
Zhang said that the regulator will exert a "tightened grip" on illegal activities, which have "seriously affected and endangered" the capital market's development.
The CSRC also pledged to step up oversight on trading at the National Equities Exchange and Quotations, a platform for small unlisted companies to raise funds, where excessive valuations and surging transaction volumes have raised concerns of speculation and illegal practices.
On Friday, the benchmark Shanghai index was down as much as 2.2 percent during the day, the largest decline in seven weeks. But the market later erased some of these losses, closing just 0.47 percent lower at 4,393.69 points.
Some analysts said that the market was dragged down by investors' concerns that an increased supply of new shares will drain liquidity. The CSRC said earlier that it would review and approve two batches of applications for initial public offerings each month, up from one previously.
Separately, the CSRC dismissed market rumors claiming that the government has considered raising the stamp tax to curb market bubbles and control the risks of leverage.
In a statement on Friday, the CSRC also said it would expand the capital-raising cap from 25 percent to 100 percent for listed companies that seek M&As. Previously, capital raised by companies that exceeded 25 percent of the value of the M&A deal required review and approval by the regulator's IPO panel.