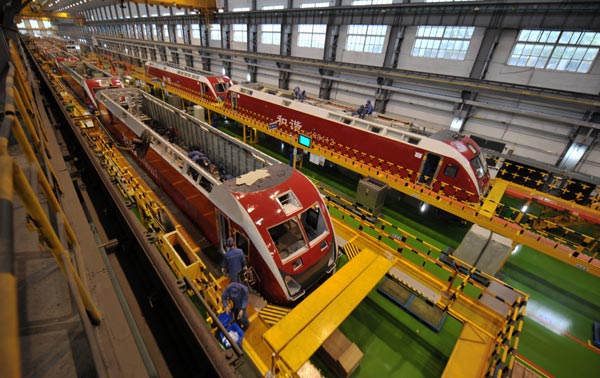 A CSR Corp assembly line in Changsha, capital of Hunan province. The company's merger with CNR Corp is expected to be completed in June. [Photo/Xinhua]
The merger of the nation's two largest producers of rolling stock, CSR Corp and CNR Corp, is edging closer to completion with the announcements of a review by the China Securities Regulatory Commission and details on the management of the new company.
In a statement on Monday, the CSRC said that the merger deal is set for review on Friday.
Earlier on Monday after their shares were suspended from trading in Shanghai and Hong Kong, a joint statement by the two companies revealed that the chairmen and presidents of CSR and CNR will be on the board of directors of the merged company, China Railway Rolling Stock Corp. A shortlist of candidates for the new company's board of directors and supervisors was included in the announcement.
The precise roles of the four executives were not revealed. However, according to the 21st Century Business Herald, CNR Chairman Cui Dianguo and President Xi Guohua will likely be chairman and president of the new company.
It reported that CSR Chairman Zheng Changhong and President Liu Hualong are expected to be executive directors.
After the merger is approved by the CSRC, the companies will hold a shareholders' meeting in May to approve the board of directors and board of supervisors and other work to complete the merger, the companies said.
CNR would then apply for delisting from the exchanges in Shanghai and Hong Kong. It would also deregister its legal, tax and industry status to allow for the new company's registration.
If all goes according to the plan, the merger could be completed by June, according to the Xinhua News Agency.
Last Wednesday, an executive meeting of the State Council, China's cabinet, released a report on the progress of the merger, saying that the transaction "must follow market rules and the principle of the companies acting voluntarily, create favorable conditions for restructuring, ensure the stable operations of the companies and improve efficiency".
In March, the merger gained approval from antitrust regulators in Australia, Germany, Pakistan and Singapore.