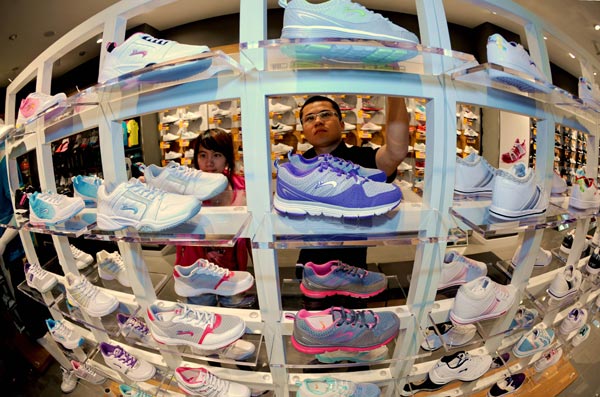 Potential buyers examine Guirenniao sportshoes at a shop in Beijng. [Photo/China Daily]
A Chinese sports brand plans to invest $21.4 million in a Spanish sports agent that manages image rights to some of the biggest international soccer players in Europe.
Guirenniao Sportswear Co, the Chinese sports apparel maker, hopes to have a tie-up with Best of You Sports SA, also known as BOY, to develop new business opportunities in the Chinese soccer market.
Under the investment deal, Guirenniao will take a 45 percent stake in the sports agent, a source close to the deal said.
The companies aim to work on integrating European and Chinese soccer resources to improve the overall level of the game in China.
"Best of You actively seeks strategic alliances that generate new business opportunities in its field of expertise," said the Spanish company on its website. "Through these ventures we look to meet the needs of clients and strengthen the relationship with collaborators."
BOY looks after the image rights of some of Europe's leading soccer stars, including Spain and Real Madrid goalkeeper Iker Casillas, Bayern Munich's midfielder Xabi Alonso and Real Madrid's defender Alvaro Arbeloa. Outside of Spain, the company also represents players and coaches in the English Premier League in the United Kingdom and Serie A in Italy.
As for Guirenniao, the Fujian-based company has a long history in supporting sports events in China, including athletics, golf and bowling. It has also sponsored national teams.
BOY also has a presence in the country with an office in Shanghai. In China, the company handles the image rights of Cosmin Contra, coach at soccer club Guangzhou R&F.
In March, the Spanish sports agency was responsible for Real Madrid's first sponsorship deal in China with electric car manufacturer Zhejiang Luyuan Electric Vehicle Co Ltd.
"There are two types of investments happening," said Phil Carling, managing director at sports marketing company Octagon. "First there is inward investment into Chinese football, which is based on increased confidence in the professionalism of local football.
"Then there is outward investment into elite foreign leagues. This reflects the growing importance of international markets to Chinese brands and the growing power of Chinese brands in global markets."
China has embarked on an ambitious national plan to reform and improve the quality of soccer coaching in the country. Under the policy, the government has announced that soccer will be added to the compulsory curriculum in elementary and middle schools across the country.
Strong support from the government to develop the sport has attracted investment from Chinese companies eager to get involved in the market.
"The government support will free up the market, and will eventually help improve the performance of football teams and players in China," said Lambert Li, general manager at Octagon in China. "Therefore, investing in football has the potential to bring huge returns for sponsors."
In January, China's largest property developer and cinema chain, Dalian Wanda Group Co, bought a 20 percent stake in one of Spain's leading soccer clubs Atletico Madrid. And now the company wants to open 200 corner shops at its Wanda Plazas in China to sell Atletico Madrid official merchandise to local fans.
Last year, Chinese technology company Qbao Corp reached a sponsorship agreement with another major Spanish soccer club Real Sociedad. This involved Qbao.com's logo being on the team's shirts during the current season. In March, the deal was renewed for another season.