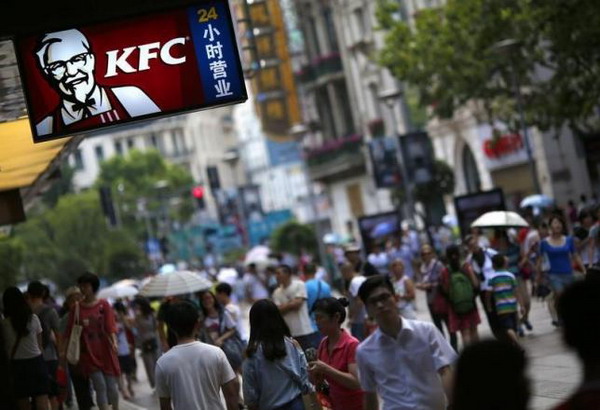 People walk past a KFC store in downtown Shanghai July 31, 2014. [Photo / Agencies]
Yum Brands Inc, owner of KFC and Pizza Hut chains, on Tuesday said business in its biggest market China is recovering from a meat scare at one of its minor suppliers and the division would finish the year strong.
Yum's comments on China, its No. 1 market for revenue and profit, sent company shares up 4.5 percent to $84.52 in extended trading.
Yum said China sales at established restaurants fell less than expected for the first quarter as it works to recover from allegations of improper meat handling at OSI Group's Shanghai Husi Food Co Ltd, which was a small supplier to Yum but a key supplier to rival McDonald's Corp. Both companies immediately stopped using the supplier.
Yum is making "continued progress" in China, Chief Executive Greg Creed said in a statement. Creed also stood by Yum's earning forecast.
"We will deliver full-year EPS growth of at least 10 percent, with a strong second half in China and solid brand-building initiatives under way at each of our divisions," Creed said.
Same-restaurant sales in China, where Yum is the biggest Western brand with nearly 6,850 establishments, declined 12 percent for the latest quarter on continued fallout from the Shanghai Husi scandal.
Analysts polled by Consensus Metrix had expected China sales to drop 14.4 percent.
Yum China's same-restaurant sales fell 16 percent for the fourth quarter and were down 14 percent in the third quarter. They were up 15 percent in the second quarter, which ended roughly a month before news of the supplier scandal broke on July 20.
"Slowly but surely, it's turning," Edward Jones analyst Jack Russo said of Yum's China business, which has suffered two food safety scares in two years. "It's still a long way to go."
Consumer perceptions have improved in China, where sales also got a lift from KFC's ongoing premium coffee rollout, spokesman Jonathan Blum said.
Yum Brands' first-quarter net income fell more than 9 percent to $362 million, or 81 cents per share, from a year earlier.
Foreign currency translation took a $20 million bite out of operating profit during the latest quarter, when revenue decreased to $2.62 billion from $2.72 billion.
Yum will host a conference call with investors and analysts on Wednesday morning.
Yum's China first quarter included only the months of January and February, while Yum Brands' first quarter ran from Dec 26 to March 21.