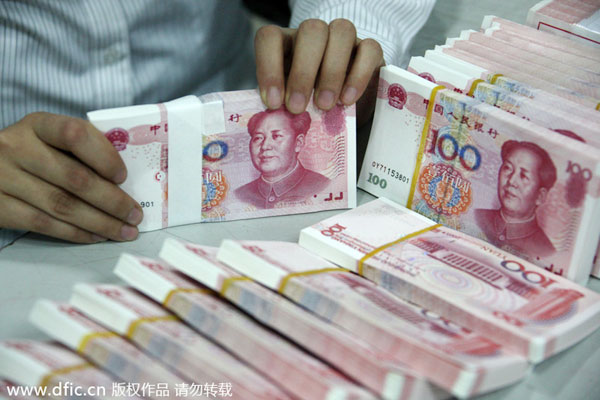 A clerk counts yuan bills at a bank in Huaibei, East China's Anhui province. [Photo/IC]
BEIJING - China's outstanding yuan-denominated loans to the real economy accumulated to 85.09 trillion yuan ($13.88 trillion) by March, up 14 percent from a year ago, new data from the central bank showed on Tuesday.
The outstanding total social financing amounted to 127.52 trillion yuan by the end of March, up 12.9 percent year on year, according to a statement of the People's Bank of China (PBOC).
The figures showed the country has accelerated cash injection to stimulate the real economy amid downward pressure.
The PBOC announced the biggest cut in banks' reserve requirement ratio since November 2008 on Sunday in order to aid the real economy which is in the urgent need of money. Analysts estimate the cut will release around 1.2 trillion yuan into the economy and significantly improve liquidity.
Premier Li Keqiang said Friday commercial institutions should take measures to solve financing problems and reduce funding costs for companies, especially small and medium-sized enterprises, in a conference with China's banking regulator and heads of commercial banks.
China's outstanding financing data are used to measure all money borrowed from financial institutions by individuals and non-financial enterprises, together with total funds raised from the capital market.
The increment of China's yuan-denominated lending reached 3.68 trillion yuan in the first quarter, official data showed earlier.
M2, a broad measure of money supply that covers cash in circulation and all deposits, increased 11.6 percent year on year to 127 trillion yuan at the end of March, the central bank said.
The narrow measure of money supply (M1), which covers cash in circulation plus demand deposits, expanded 2.9 percent year on year to 33.7 trillion yuan as of the end of last month.