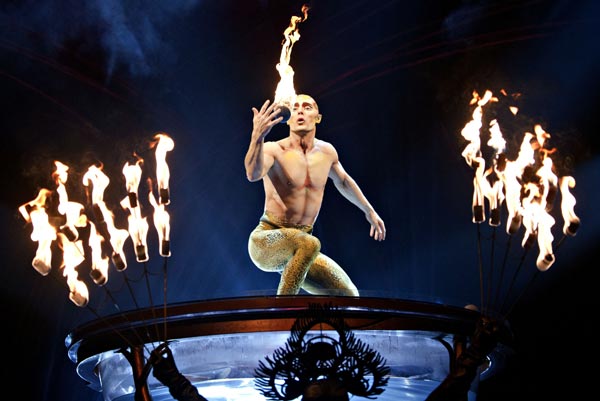 Circus troupe Cirque du Soleil performs the show Amaluna in Montreal, Canada. Chinese conglomerate Fosun International is to hold a minority stake in the troupe. [Photo/Xinhua]
Chinese private conglomerate Fosun International has broadened its business scope by backing the takeover of Canadian circus and entertainment giant Cirque du Soleil.
One of the world's largest and best-recognized entertainment brands, Cirque du Soleil reaches an audience of 150 million worldwide.
Fosun will take a 20 percent stake in Cirque du Soleil, while TPG, a leading private investment company based in Texas, will hold the majority 60 percent stake in the circus company by closing the deal at about $1.5 billion, Reuters cited insiders as saying on Tuesday.
Canada's second-largest pension fund, Caisse de depot et placement du Quebec, will hold a 10 percent stake and Cirque founder Guy Laliberte's family trust will keep the remaining 10 percent. The sale is expected to close in the third quarter of the year.
TPG has a successful track record of growing leading brands, including J. Crew and Neiman Marcus, which Daniel Lamarre, president and chief executive officer of Cirque du Soleil, believes will help fuel new growth in the company's business together with the other stakeholders.
Although Fosun will hold a minority stake, Lamarre thinks the cooperation is important in the sense that Fosun will help the circus to further develop in China and boost its chances of success.
Fosun had no response on Tuesday to earlier media reports that said the first show in China after the deal will be staged in Hangzhou, Zhejiang province. But it did say the first show will be staged in June.
Guo Guangchang, chairman of Fosun International, said the cooperation with Cirque du Soleil will provide a major new growth platform within Fosun's lifestyle services and content portfolio.
"To date, Fosun has established a global prototype for platforms that capture lifestyle trends in China," Guo said. "Building on top of this model, we aim to become one of the global leaders in businesses driven by lifestyle needs, which are taking root quickly in China."
Guo said last month that Fosun will further its investment in the health and lifestyle sector, roll out ecosystem planning and speed up participation in global industry consolidation.
The groundwork for this has been laid step by step.
Fosun took a controlling stake in US filmmaking company Studio 8 in June of last year before acquiring all of Portugal's Luz Saude healthcare group four months later.
In January, Fosun took over the French resort chain Club Med for $1.3 billion before taking a 5 percent stake in UK tour operator Thomas Cook two months later.
The company's health and fashionable lifestyle sector has grown significantly in the past financial year, with revenue rising by 20.3 percent year-on-year to 11.94 billion yuan ($1.93 billion), contributing 19.3 percent of Fosun Group's revenue.