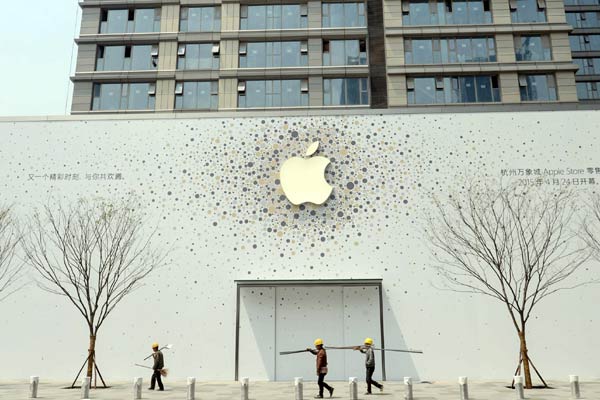 The second Apple Store in Hangzhou, Zhejiang province, will open on April 24.It is also the 19th Apple Store in the Chinese mainland.[SHI JIANXUE/CHINA DAILY]
Apple Inc, the world's biggest company by market value, is entering the overseas power-generation sector by working with a United States partner on the building of two photovoltaic solar power projects in Sichuan province in western China.
SunPower Corp, the second-largest solar power producer in the US, revealed in a statement that it will build two 20-megawatt facilities in China, in cooperation with Apple.
The two stations, located in the province's Aba Tibetan and Qiang autonomous prefecture, will be co-owned by Apple and Sichuan Shengtian New Energy Development Co Ltd, SunPower's project-development joint venture.
The sites, which are already under construction, are scheduled to start operating by the fourth quarter of this year. They are expected to provide up to 80 million kilowatt-hours of power annually. The statement did not release any financial details.
Tom Werner, SunPower's president, said the two projects are its first international solar power collaboration with Apple.
It is also the first time that Apple has invested in a solar project outside of the US, following its announcement of an $848 million investment in February to buy power from First Solar Inc's 130-megawatt California Flats Solar Project, under a 25-year agreement.
"Apple has big ambitions in renewable energy," said Xu Qinhua, director of the Center for International Energy and Environment Strategy Studies at Renmin University of China in Beijing.
"This is more like a pilot project, and I believe the company will make more moves into the sector."
Xu said Apple's investment in China's solar industry shows its confidence in the country's renewable energy sector, which has been growing fast in recent years.
As the world's largest renewables producer, China has been working hard at increasing its renewable energy capacity and consumption, aimed at cutting carbon emissions and fighting climate change.
"Foreign companies are very sensitive about changing policies in China since it is such an important market for all businesses," Xu said.
"China's renewable market, led by solar and wind, will create huge potential in the next 10 years."
Spotting the opportunities, SunPower announced its second China joint venture in October, the Shengtian joint venture in which it will develop and own at least 3-gigawatts of PV power in China, along with partners Tianjin Zhonghuan Semiconductor Co Ltd, Sichuan Development Holding Co Ltd, Leshan Electric Power Co Ltd and Tianjin Tsinlien Investment Holding Co Ltd.
SunPower has committed $20 million to the project, in addition to supplying it with solar power technology and expertise.