Premier calls for additional fee cuts and more loans for small businesses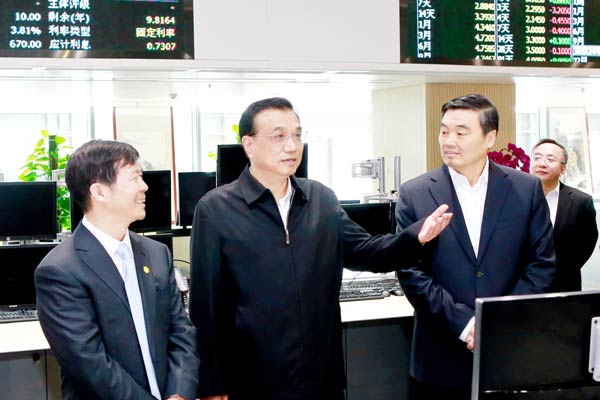 Premier Li Keqiang talks in the capital trade center of the China Development Bank on Friday. Li also visited the Industrial and Commercial Bank of China and called on banks to support projects to foster domestic restructuring. [FENG YONGBIN/CHINA DAILY]
Chinese banks should further cut their fees and increase their loans to small businesses, Premier Li Keqiang said in a meeting with presidents of major Chinese banks and their administrators in Beijing on Friday.
Li said the banks should also dedicate more finance to development projects to foster domestic restructuring and to support cooperation with developed economies, both as a buyer of technology and expertise, and an exporter.
The premier visited China Development Bank and the Industrial and Commercial Bank of China before hosting the meeting together with Vice-Premier Ma Kai and State Councilor Yang Jing in the ICBC.
Li urged CDB to increase its support for shantytown renovation projects, including underground pipe networks; railway construction in the central and western regions; water conservancy work; and information infrastructure projects-such as improving the Internet-that are the bank's duty.
The premier's major concern with ICBC was the bank's loans for small enterprises. ICBC loaned about 161.3 billion yuan ($26.9 billion) to small enterprises last year.
Jiang Jianqing, president of ICBC, predicted that figure will drop to about 140 billion yuan this year.
Li said: "Supporting them will generate sustainable vitality in the real economy and create jobs. There could be some favorable policies, or even financial support, from government revenue when necessary, for the banks' loaning business for small enterprises."
Jiang said his bank had canceled all fees related to small-enterprise loans.
However, Li said: "That's not enough. The banks should further cut the fees in other services to relieve the burden on small businesses."
He said helping the real economy was in line with the interests of the banks. "A key reason why we actively encourage the establishment of private banks is that we hope the private banks can become an important finance service provider for small enterprises," Li said.